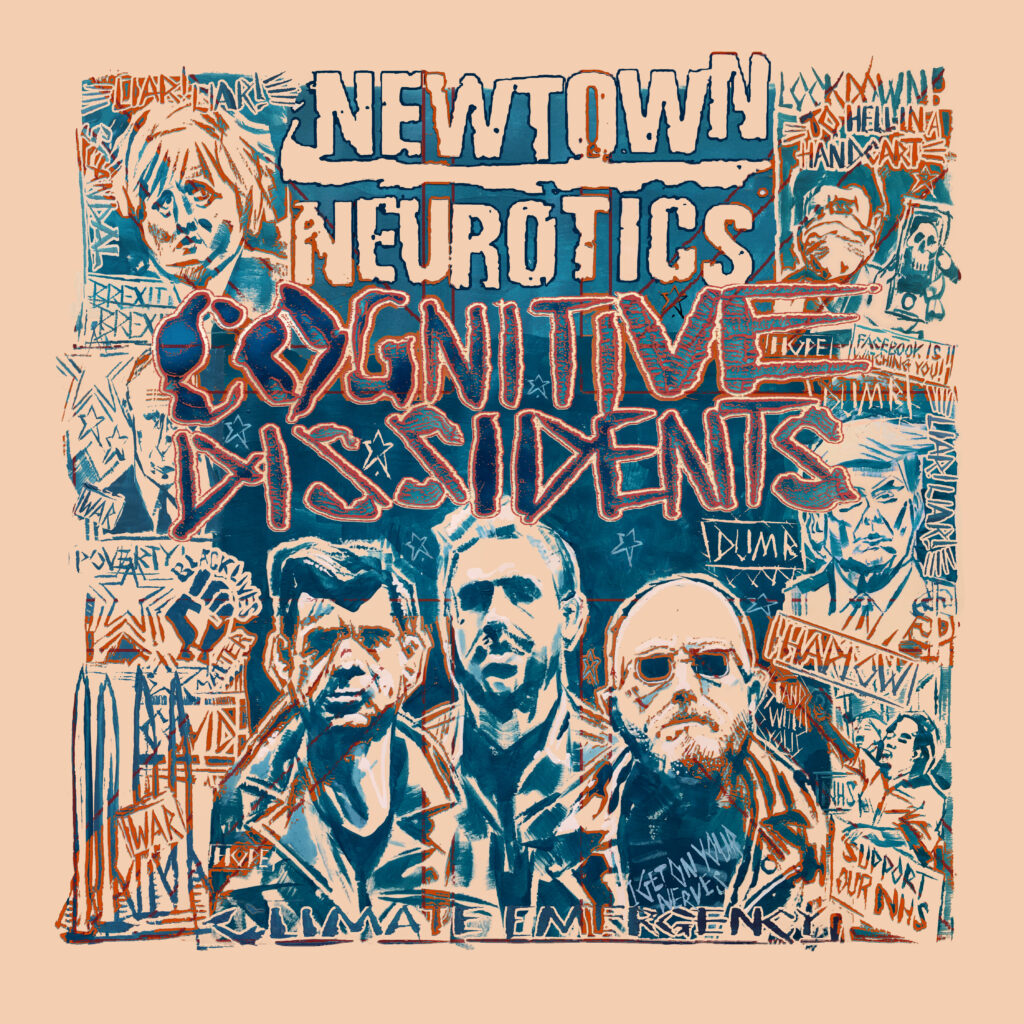 Newtown Neurotics
Cognitive Dissidents
Cadiz Music
Street: 10/21/2022
For over 40 years Newtown Neurotics have sounded the alarm against the perils of political and social annihilation. They have been brilliantly demonstrating this through an uncompromising punk lead ethos. The artists behind this work toward revolution are Steve Drewett, Simon Lomond and Adam Smith. The result of their efforts is music used as a tool to inform, agitate and organize against the trapping of complacency. Their new album Cognitive Dissidents builds upon this method. It's eight tracks seek to rail against submission to ignorance and in turn rally against the civilizational decay of our time.
The opening track "Climate Emergency" captures the sense of urgency celebrated in Newtown Neurotics' material. It's a song demanding it's listener pay attention to the overwhelming environmental crisis facing today's world. To do this, Newtown Neurotics unapologetically highlight the severity coming from an onslaught of climate breakdown. True, "Climate Emergency" betrays a seriousness and somber tone, but this tune is catchy.
In "Take Your Dirty Hands Off Our Town" Newtown Neurotics profess nostalgic sentiments for their hometown of Harlow, Essex. This song serenades the origins of Harlow New Town after World War Two while seeking to place present importance on the towns community. In this, vocalist Drewett decries the Tory robbing of Harlow's civic infrastructure and promise. However, he also celebrates his upbringing along with the changes he's observed over the years. This is drawn from examples of his youth like organizing bands and standing against the National Front. It's obvious that this is a tune that clearly hits home for Drewett ,and I imagine anyone living in Harlow.
"Hope" is a song rallying the banner of resistance against the idea of impending doom. This track is easily a favorite of mine. Newtown Neurotics' "Hope" urges rising together to face today's uncertainties. Many of the topics found in Cognitive Dissidents are about candidly singing about today's modern challenges. "Hope" manages to offer a way forward and more importantly the potential for a way to live. This is via an emphasis of the importance on hope through connection through love and cooperation in our respective communities. It's refreshing song against a climate of prevailing despair. Thus, this one ought to considered along other punk lead anthems like The Clash's "London Calling" or Sham 69's "If The Kids Are United."
"Dumb" is another favorite on Cognitive Dissidents. This track takes a satirical look at the absurd nature of conspiracy nuts. "Dumb" is sung from the perspective of a wearer of a right-wing tin foil hat. Drewett highlights the themes that define the conspiracy theorists. This includes finding community in the fringe, dismissal of experts and acceptance of a flat earth. Ever clever, Newtown Neurotics poke fun at these dangerous nutters while listing the importance of their emerging threat to sane discourse and living.
Overall, Cognitive Dissidents is a solid album. It's Newtown Neurotics first album in about 34 years and neatly picks up where they left off in 1988. Not surprisingly, this album is a bit more mature in style and sound. Drewet's song writing continues with the pressing anger and creative energy of punk.
In Cognitive Dissidents Newtown Neurotics seek to bring sense to this turbulent world and tell it like it is. It's a sober, straight forward call to action. This is an approach that makes them consistent and among my favorite groups. To be fair, the world's still chaotic, and maybe even more so than it was in 1988. That said, Newtown Neurotics are here to poignantly light the way. Now pick this up. It's relevant and must to be played.
For more about Newtown Neurotics, visit them here.
(Visited 135 times, 1 visits today)