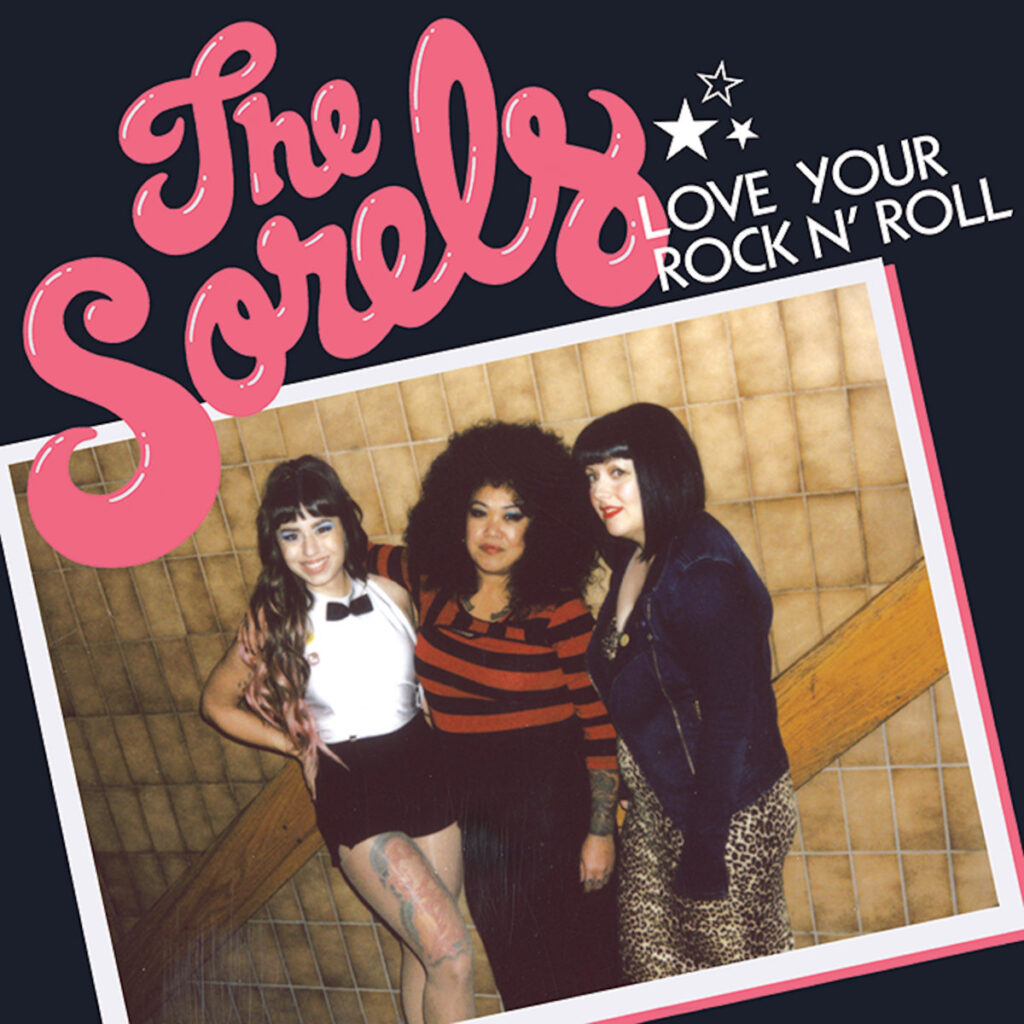 The Sorels
Love Your Rock N' Roll EP
Reta Records
Street: 09/02/2022
The Sorels hail from Winnipeg, Canada. They are Jo Jo Rodriguez (vox, bass) , Jennifer Alexander (guitar) and Jill Lynott (drums, vox). Together they have released their third EP via Reta Records and it is aptly titled Love Your Rock N' Roll. It's very much a love letter for the sentimentality of the eternal days of old celebrating rock n' roll excellence. Within these grooves is a style mending aspects of 1960's girl groups, glam punk but with the infectious nature of power pop. It rips and ought to be heard.
Each track has it's own significance and charm. The title song "Love Your Rock N' Roll" kicks this record off superbly. It blends up-tempo power pop with sprinklings of glam. When the needle hits this one, turn the dial until your sound system registers red hot. Played under the right inhibitions, this ditty will have you moving and grooving.
In contrast "The Jerk" captures the moody nostalgic sensations of early '60s girl groups. Admittingly, the Larks made the Jerk a craze in 1964. However, The Sorels lament a longing for the fabled dance and in their homage have brought it new life. "The Jerk" furthermore highlights this yearning by mention of other dances like the Twist, Mashed Potato or Wah Wah-Watusi. This is by invoking the musical spirits of The Shangri-La's and The Ronettes.
The B-side of this EP continues with the gold. "Make Me Party" perfectly captures the catchiness of the glam rock essence found in 1972. That said, it certainly has a modern flair that's in line with Giuda's "Get It Over." With this track it's clear The Sorels don't hold back, are force to be reckoned with. Play this one loud at the next glamracket for it's a stomping banger.
"Another School Day" is a great track to wrap this EP up with. While it stands on its own, it ends things on a high note. The previous song demonstrated an excellence in glam, but "Another School Day" blends it with punk laden defiance decrying the monotonous nature of another day in school. Think of it along with Alice Cooper, Joan Jett and Nikki Corvette. "Another School Day" ques up in the same vein as the previous rebel without a cause notions, a trend seamlessly found amongst The Sorels other material. Too bad this is the last track, as I wish there was more.
Overall the Love Your Rock N' Roll EP is hands down brilliant. If there was a record to get your hands on, it would be this one. The Sorels know the substance of rock n' roll inside out and demonstrate it with exceptional quality. These four tracks certainly play on the familiar heartstrings begging for a revival of the golden age of rock n' roll. Its not a new story nor is it irrelevant. The Sorels approach this idea with a depth of sincerity and in turn make it fun. It's quite an enticing listen and as far as a themes for retroism goes, their song "the Jerk" is one to stand out.
Personally, my favorite track is "Make Me Party." It's a tune that would fit perfectly in another issue of the Glamstains comps. That said, this EP's four tracks demand to be played on repeat. To miss out on this record would suggest a lapse in judgement and need for a possible lobotomy. Now, go pick this up, play it loud and annoy your neighbors with something good.
For more about The Sorels, check out them out on bandcamp!