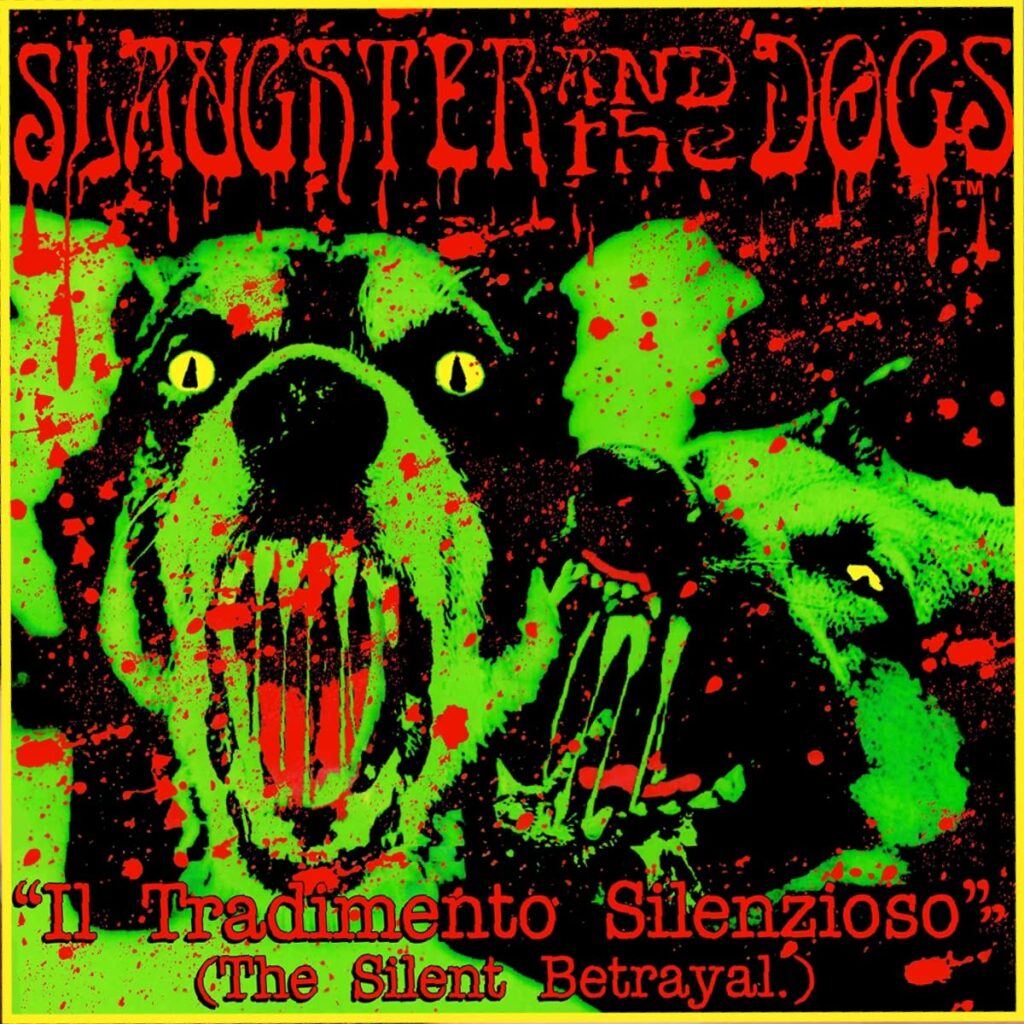 Slaughter and the Dogs
IL Tradimento Silenzioso (The Silent Betrayal)
Spaghetty Town Records
Street: 08/10/2022
Slaughter and the Dogs are one of the original forefathers of punk. Since 1975 they have blended boot boy glam and the defiant attitude of punk rock with particular brilliance. Their latest album IL Tradimento Silenzioso (The Silent Betrayal) is a testament to this philosophy. Within its grooves are tunes that demand a listen and may even find themselves among the mantle that holds up their previous material. Albeit this record carries on with a more mature sound, however it still captures the essence that makes Slaughter and the Dogs great.
This record kicks off with strong with the boot boy football anthem in "Manchester Boys." If one needed a track to blast loud while sporting the colors of Manchester City or Manchester United, then this one is perfect. This song is fun for its rowdy glam punk style coupled with an uplifting and easy-to-follow chorus. Mind you under the right influences singing along to "Manchester Boys" will no doubt make you some friends—providing you are sporting the right colors.
Other tracks like "Silent Cities" carry a more somber, reflective sound. This one is still well in the same vein of unabashed punk. Most notably as it's a song pushing the envelope of questioning authority and challenging complacency. In comparison songs like "Good Times Are Coming Here Today" is upbeat and rocking. It's a feel good number that leaves it's listener resonating in a good place.
Perhaps my favorite song on IL Tradimento Silenzioso (The Silent Betrayal) is "The Ok Man." Leading in with a stomping beat, this song draws from the perspective of someone who finds themselves in the thorough of casual chit chat at the pub or cafe. Admittingly, it's not quite in line with the minimalism found in traditional punk tunes. Rather, this tune is uniquely engaging as it is more developed. It's a play on a ballad with a folk-like tune. This is brilliantly weaved together via a superior lyrical quality courtesy of Wayne Barret McGrath. Think of it as having a similar quality that can be found with a Joe Strummer and Mescalero's or Johnny Cash approach.  "The Ok Man" is well worth putting on repeat.
The b-side of this record has some tracks that stand out as well. "Five Star British Hotel" is one of the. The theme comments on the boring life of a hotel employee only wanting the stability of a simple life. This song starts off with the recording of "Oh Britannia" and launches into a uptempo tune complete with a keen punk induced critical self awareness. In comparison fellow tracks like "Cocaine Smile" harkens on Slaughter and the Dogs punk roots. In the same vein is "Hooligan Blues." This is done by playing up on the styles fast and raucous.
Overall IL Tradimento Silenzioso (The Silent Betrayal) captures an essence of charm that only Slaughter and the Dogs could offer. This record blends styles ranging from their glam punk sensibilities to punk styles ebbing with a more reflective tone. If one has appreciated their previous material, then the growth that this record boasts suggest it might be well worth a listen. After all, they have remained consistent with this infectious sound. So, go forth and procure a copy. This is a record that ought to be heard.
For more visit https://www.spaghettytown.com/
(Visited 158 times, 1 visits today)