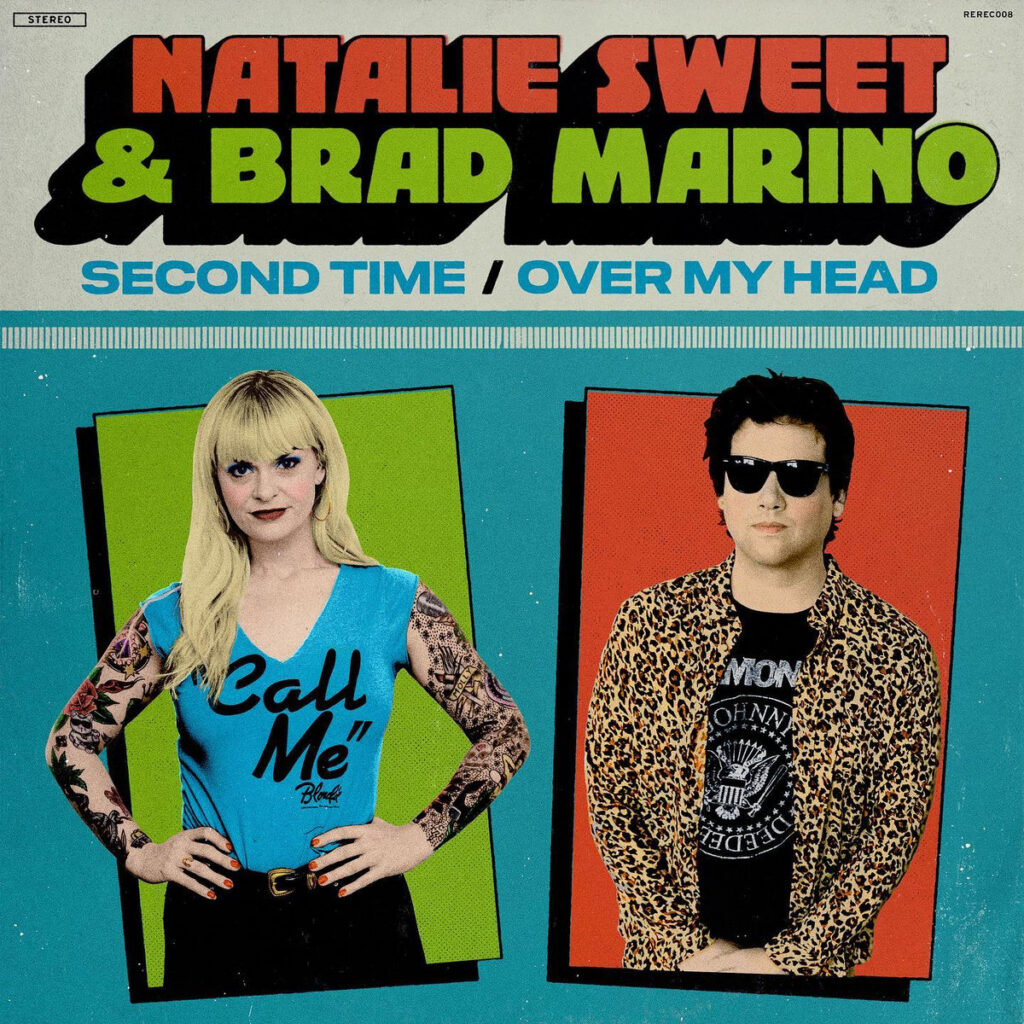 Natalie Sweet & Brad Marino
Second Time/Over My Head
Reta Records
Street: 08/26/2022
Natalie Sweet and Brad Marino are two of today's power pop A-listers. Sweet previously fronted The Shanghais and Control Freaks. While Marino founded and fronted The Connection, and has material out with Rydells and Tommy and The Rockets. Not to mention they both have extensive solo projects that ought to be  heard. The Second Time/ Over My Head 7" is a treat as it is a east coast-to- west coast collaboration. Together they have produced a high energy infectious rock n' roll.  Despite only being two tracks, it's the kind of punk meeting pop that hooks on and doesn't let go.
Both tracks share a kind of duet approach. However, "Second Time" prominently boasts Sweets singing. Lyrically, it's a song laments the trappings of falling in love again with the same person. In true form, "Second Time" celebrates the nature of of punk blending with power pop. Think of this track as a melding of the Ramones speed meeting the Buzzcocks harmonies . It's fast and easy to sing along with. Be sure to turn it up.
"Over My Head" is sung from the perspectives of both Sweet and Marino. This track tells the tale of the slippery slope from a casual relationship transitioning with a partner wanting something more. Between the two of them it's a fun back and forth. From Marino's point of view, he sings about his anxiety as things get more serious than intended with the partner to be. In contrast, Sweet character seeks something more and is out to get it.
Overall "Over My Head" is a charming listen. This is the track cementing this duos ability to produce a tune together that is tight and catchy. Listening to this one would almost wonder if they have collaborated before.
The Second Time/Over My Head 7" is a record that draws on both Sweets and Marino's talents for fast paced lovers lost rock n' roll with solid hooks. Furthermore, this also demonstrates their seemingly natural ability to work together. Like their other material this 7" packs a punky power pop punch. Although short and sweet, this is record is addicting to hear. So, drop the needle on this single and dig it.
For more, check out Reta Records Bandcamp!
(Visited 57 times, 1 visits today)