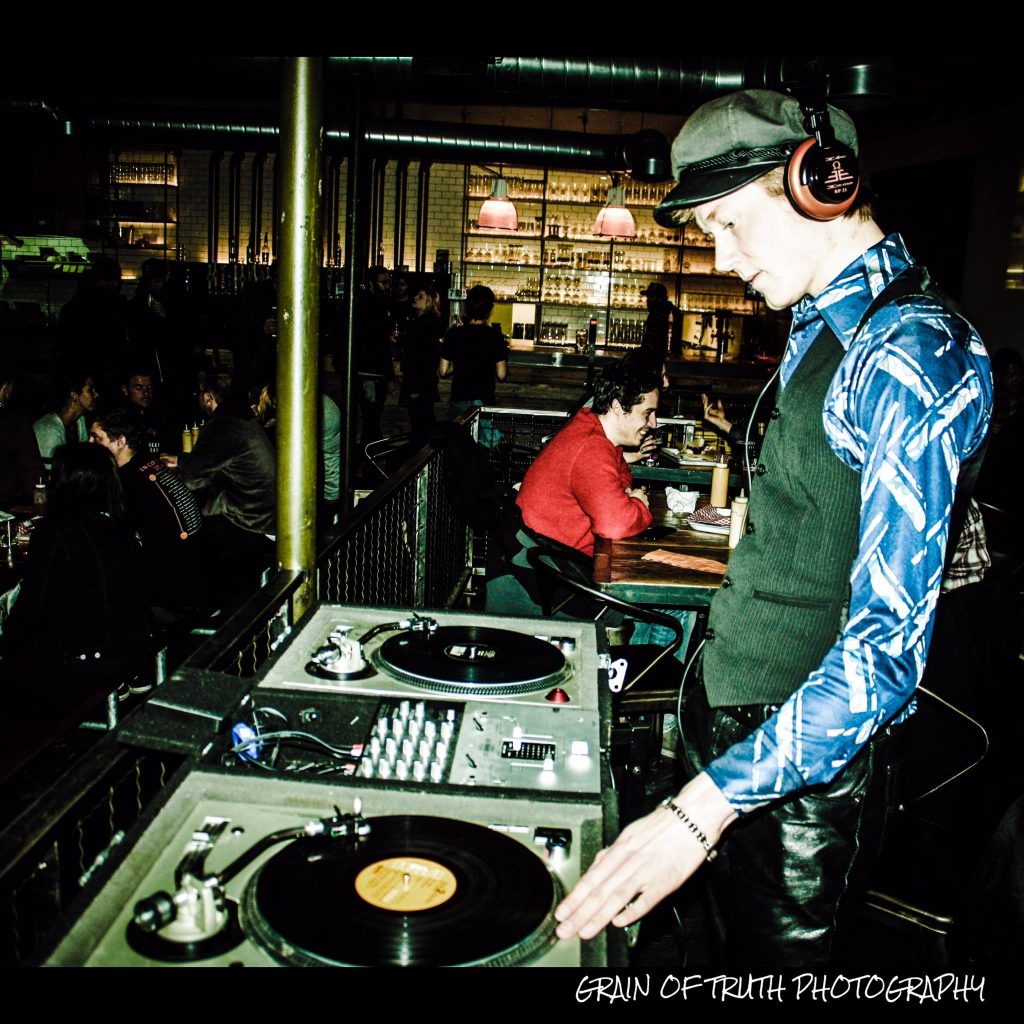 DJ Nix Beat is a strictly vinyl DJ based  in Salt Lake City, Utah. His interest in DJing was inspired after years throwing of parties and subjecting his friends to his growing record collection. For 10 years  DJ Nix Beat has selected music spanning over 70 years, from the 1950's throughout today's contemporary artists.  He's passion for this music reflects through his knowledge of rock n' roll, doo wop, garage rock, soul, glam, power pop, punk and new wave.  Utilizing these diverse styles,  DJ Nix Beat weaves together and  tailors his music choices to fit every night, party, concert or event he spins for.
Since 2018, DJ Nix Beat has regularly teamed up with his partner DJ_Retrograde_ by opening for local and touring bands such as Giuda, The Vibrators, The Schizophonics, Raven and Bad Sex. They have also enjoyed co-hosting several club nights. These include nights the Alibi-Beat Club, The Freak Out, Discotheque and Aces High Saloon's Punk and Heavy Metal Night. In addition they have DJ'ed at Pon Pon Bar in Denver, Colorado.
Over the years DJ Nix Beat has also collaborated with fellow DJs, They includes DJ's Andy Maximum (PDX), Major Sean (PDX), The Gruesome Twosome (The Neumans), John The Revelator (Lon,Eng), Hey Paula (Lon,Eng), Las Titis (Lon,Eng), Dizzy Lizzy (L.A), Fish (Las Vegas, SLC), Tall J (SLC), Paul Woody (SLC), Dancing Dame (SLC), and Rockin' Robin (SLC).  
Among other bands DJ Nix Beat has opened for are Protex, The Jackets (CH), The Darts (US), The Dirty Fences, Atomic Suplux, Eight Rounds Rapid, The Night Beats, Lu Luz, Hal Holiday, Foster Body, Lean Canteen, WitchDoktors, The Kramers, Bloodshot Bill, BizNaga, The Cry, and  Ex-Cult.
He currently, enjoys several residencies in Salt Lake City, Utah. He has additionally has spun at SLUG Magazine's Annual SLUG Cat, Utah Rockabilly Presents at Piper Down Pub, Jesse Walkers Bunny Hop, Pop Tavern ( PDX) The Vern (PDX) at Brian Moy's Dirty Rock  & Roll Dance Party( Las Vegas, Nevada), Helgis (Lon, Eng) Garageland (Lon, Eng) and Some Weird Sin (Lon, Eng). 
DJ Nix Beat has also been featured for his DJ'ing in SLUG Magazine, Salt Lake Magazine, PALE, KUAA Radio, Wick Radio and on the University of Utah's K-UTE Internet Radio. 
"Nick Kuzmack—easily recognizable as the tall, slim, fashionable figure whom you no doubt have seen in record stores, at shows or onstage—has a presence that commands (and in equal parts demands) attention" – Z. Smith (SLUG Magazine)
"This guy has a top of the range vinyl collection! Great to work with too. Look forward to his return to London!" – Mauro Venega (Some Weird Sin.)
"NixBeat is one of the finest djs I've had the pleasure to work with over the years. Professional, friendly, stylish and knowledgeable, NixBeat effortlessly combines punk rock, garage punk, rock and roll and glam and was easily able to get the room dancing from start to finish at my Camden Town London punk night, Garageland. Highly recommended and beyond compare!! Thanks again and cheers, Nick!" – Spike E. Valtzer (Garageland)
 Book DJ Nix Beat for your bar, party or show! For more information, please send an email here for rates.
Check out DJ Nix Beat's sets by listening to his recordings of The Freak Out published via his mixcloud below.
The Freak Out
Theme: Garage Rock, Mod, Psychedelic and Soul
Theme: Rock n' Roll, Doo Wop and Rythem and Blues
Theme: Soul, Funk and Rythem and Blues
Theme: Punk and Power Pop
Theme: Glam Rock, Junkshop Glam and Glam Punk
Theme: New Wave, Goth, Post Punk and Death Rock
Theme: Reggae, Ska, Two Tone and Dub
(Visited 872 times, 1 visits today)