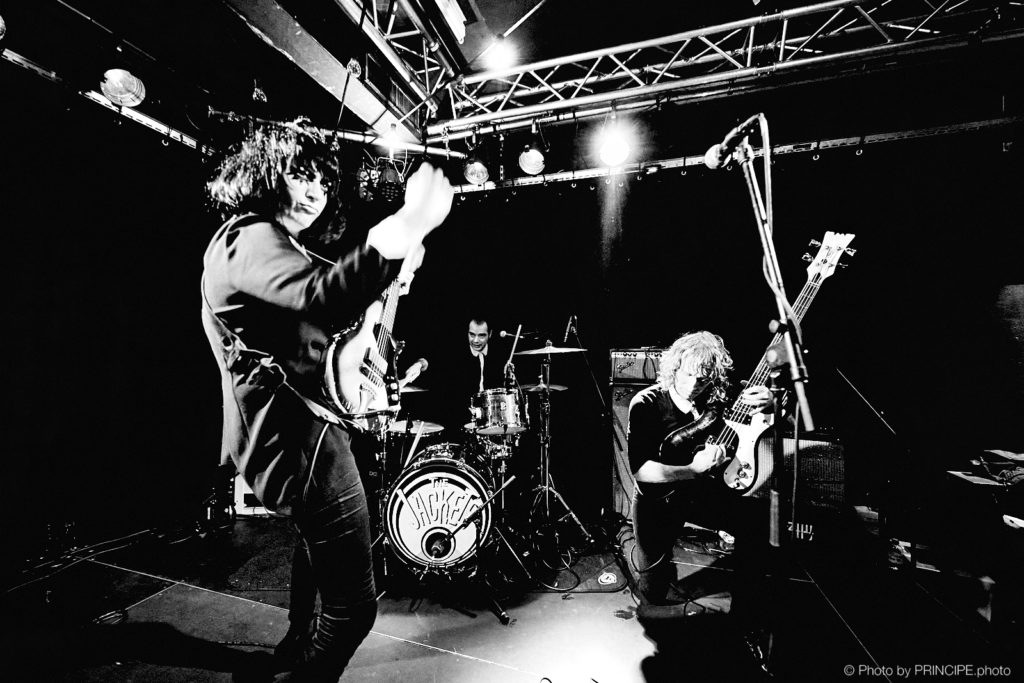 The Jackets are arguably among of the most dynamic garage punk groups to come out of Bern, Switzerland. They are Jackie Brutsche aka Jack Torera (guitar vocals), Samuel Schmidiger (bass, backing vocals), and Chris Rosales (drums, backing vocals). Whether on stage or heard through their records, The Jackets revitalize the vital heartbeat needed to keep rock n' roll alive. This is by their seemingly natural ability to effortlessly blend wild, primitive garage-punk with fuzzed out freakbeat influenced by notions of psychedelia. It's the kind of music that not only shocks and awes, but also inspires.
Since 2008, The Jackets have released four albums, a single and have toured relentlessly throughout Europe and the United States. Their last two albums Shadows of Sound (2015) and Queen Of The Pill (2019) along with the Be Myself/Queen Of The Pill 7″ (2017) have come out via the infamous Voodoo Rhythm Records. Their latest album, Queen Of The Pill even included a collaboration with King Khan (King Khan and The Shrines and King Khan & the BBQ Show).
In February 2020, prior to the Coronavirus pandemic, The Jackets did a brief West Coast Tour. This tour started in Portland, Oregon and ended in their first ever show in Mexico City for the Born To Be Cheap Fourth Anniversary Party. After catching The Jackets in Portland on February 19th , I later caught up with Chris Rosales. We chatted about The Jacket's recent North American Tour, Queen Of The Pill, the European Garage Rock Renaissance and life in Switzerland during Coronavirus Lockdown.
NixBeat: The USA West Coast/Mexico Tour was partly booked with Ugly Things and Born To Be Cheap. How did you get involved with them?
Chris Rosales: I've known Mike Stax (Ugly Things) since I was a teenager. I was involved with the first Garage Revival in Los Angeles (Greg Shaw's Cavern Club, etc.) in the '80s and Mike was an "ace face" and major player. I met Anja Stax when she lived in London in the '90s so they were both a natural as go-to people for our last three California tours. Anja Stax can book a tour in 10 minutes! It's incredible! Mike and Anja are the best, I can't say enough about those two they are amazing people. Matt and Daneep from Born to be Cheap got a hold of us last year and asked us if we wanted to come and play in CDMX! We jumped at the idea. We basically built the USA tour around the Mexico shows. We didn't know Matt and Daneep before we got to Mexico. Two more amazing people! That's what I love about this scene – meeting so many cool people and then they are your friends for life!!
NixBeat: This was the third North American Tour for the Jackets. How have you found the audiences reception to your gigs?
Chris Rosales: We are always blown away playing in the USA! I mean, this was the first time we did a tour exclusively on our own – not touring with another band. It was nice to see people know about us now and know our songs and come just for The Jackets. All the gigs were well attended and fun!
NixBeat: While traveling to Mexico, were you concerned about The United States strict immigration policies at its Southern Border?
Chris Rosales: No, not really. We were concerned more about the Mexican side. We were told that bringing guitars over might bring unwanted questions so we went over with nothing but our luggage and the promoter drove our guitars over. It was also relatively quiet at the border when we crossed over to Tijuana.
NixBeat: Seth Bovey's book Five Years Ahead Of My Time: Garage Rock From The 1950's To The Present suggests that Europe and particularly Switzerland are experiencing a kind of garage rock/underground music renaissance. Do think this is true and if so, why is there such a strong revival going on at the moment?
Chris Rosales: We were also surprised to see our name in that book! As far as a Garage Renaissance in Europe, it's been going on for a while now. I, we have been asked this question many times and I really can't put my finger on why this kind of music is more popular in Europe than in the USA. But it is. And particularly with younger people. It's not a huge scene like the Metal scene or something but hundreds (Thousand?) of people go to festivals like Funtastic Dracula Carnival, Purple Weekend, Cosmic Trip, etc. Instead of wondering why, I am just enjoying it. It's good for the bands – it's what makes new bands form.
NixBeat: The Jackets tour started out in Portland where DJ Major Sean (Sean Cavanaugh) spun records for your show. Do you think having a DJ spinning set at gigs is important and what kind of difference does it make for you experience while performing at a venue?
Chris Rosales: It's always better having a DJ spinning at gigs! It gets everyone in the mood for the live music and builds a great atmosphere in the club! It's also great seeing what cool records the DJs have as well! A gig without a cool DJ is really missing something.
NixBeat: What kind of differences do you notice from your shows and experiences in the United States in comparison to when performing in Europe?
Chris Rosales: Like I said before, there are more people and younger people in Europe. In the States a Garage gig is filled with people around 50 years old (wink wink). In Europe it's much more mixed and there are way more people.
NixBeat: Queen of the Pill was released in June of 2019. How would you describe the difference in sound and style between your previous album Shadows of Sound and Queen of the Pill?
Chris Rosales: Queen of the Pill is a more thought out album, in my opinion. We worked on the songs more, we worked on the mix longer. We cared more about what we wanted to say. Not to knock Shadows of Sound at all but we made that album in six months. Queen of the Pill was really a two-year project and that 7" that we released the year before was really a test of ideas about the direction we wanted to go with the full LP.
NixBeat: The video for "Losers Lullaby" features the Jackets performing in drag in a parking garage. What's the inspiration behind this song and video?
Chris Rosales: The songwriting and the video idea are two separate things. The song is filled with the ultimate "put-downs". Things you want to say to someone you hate! The video became a play on male and female roles in bands – Sam and I turn into girls and Jackie turns into a guy. At one point Jackie is the male singer of a girl band. That kind of thing.
NixBeat: The Jackets recently released the music video for Queen of the Pill track "Dreamer." The video focuses on the perspective of a Gorilla and that of Jackie exploring the city of Bern, Switzerland. What's the story behind this video?
Chris Rosales: The video for "Losers Lullaby" was professionally shot and we wanted the next video from the LP to be more DIY. On a sunny early Spring day, I got into a gorilla suit and Jackie and I set out into the countryside around the city of Bern to start filming something. The idea was wide open but there was a lyric from the song – "I had a meeting with my mind face to face, my evil half and little me, what a disgrace". That gave us a thread of an idea. Jackie is the gorilla and the gorilla is Jackie. It's a dream. The video took a long time to come to something that we were happy with. I think we shot it a year before it was released.
NixBeat: The track "What About You" features collaboration with King Khan doing guest vocals. What's the story behind this track?
Chris Rosales: Well he produced the album and his personality is so strong that we wanted to get him to do something on it if at all possible. He arranged that bridge part of the song so we go him to do the vocal part himself and it's great. He also sings on "Steam Queen" as well as playing the gong on "Floating Alice" and hand-clapping, etc. He was keen to do as much as we would let him!
NixBeat: What are you drawing from for the song "Be Myself?"
Chris Rosales: You mean what is the song about? Well that's a text collaboration between me, Jackie and King Khan so it's all over the place. I guess it's about defiance. I don't wanna do this and I won't do that and I don't wanna be myself! That kind of thing. But it's quite silly really if you read all the lyrics together. But it's one of my favorite new Jackets songs for sure.
NixBeat: I have to ask this. My introduction to The Jackets was coming across the the music video for "Freak Out," released in 2012. In the video The Jackets play a house party and it's attendees to spasm out of control as if under as spell. The theme suggests a kind of "warning" against the dangers of rock n' roll. What's the inspiration behind "Freak Out?"
Chris Rosales: The "Freak Out" video from 2012 is a remake of various scenes from the 1936 film, "Reefer Madness" which was a morality tale attempting to teach young people about the dangers of marijuana. The original film from the thirties revolves around the melodramatic events that ensue when high-school students are lured by pushers to try marijuana—from a hit and run accident, to manslaughter, suicide, attempted rape, hallucinations, and descent into madness from marijuana addiction. We just changed marijuana to rock and roll! This video was our first. It was professionally shot by Decoy Collective, who also did our video "Keep Yourself Alive".
NixBeat: Now that The Jackets are back in Switzerland, how are you all coping with the outbreak of the Coronavirus?
Chris Rosales: We got really lucky with the tour. It started on the 15th of February so there were no lockdowns, curfews and cancellations until we got back to Europe. Well we are all confined to our apartments. Jackie and I are off work because our employers have closed during the lockdown (As of this writing Switzerland is on lockdown). It's only been a week of this so I can't really imagine how insane everything is going to get in the next weeks and months.
NixBeat: How has the Corona Virus Pandemic affected life, and particularly the music scene in Switzerland?
Chris Rosales: There are no gigs. Lot's of bands had their tours cancelled. This is really hard on Record Labels in particular! Voodoo Rhythm is going through a particularly hard time. If you all would like to help you can donate here.
For more about The Jackets, check out their Website and Facebook.
For more on Voodoo Rhythm Records and how to help click here.