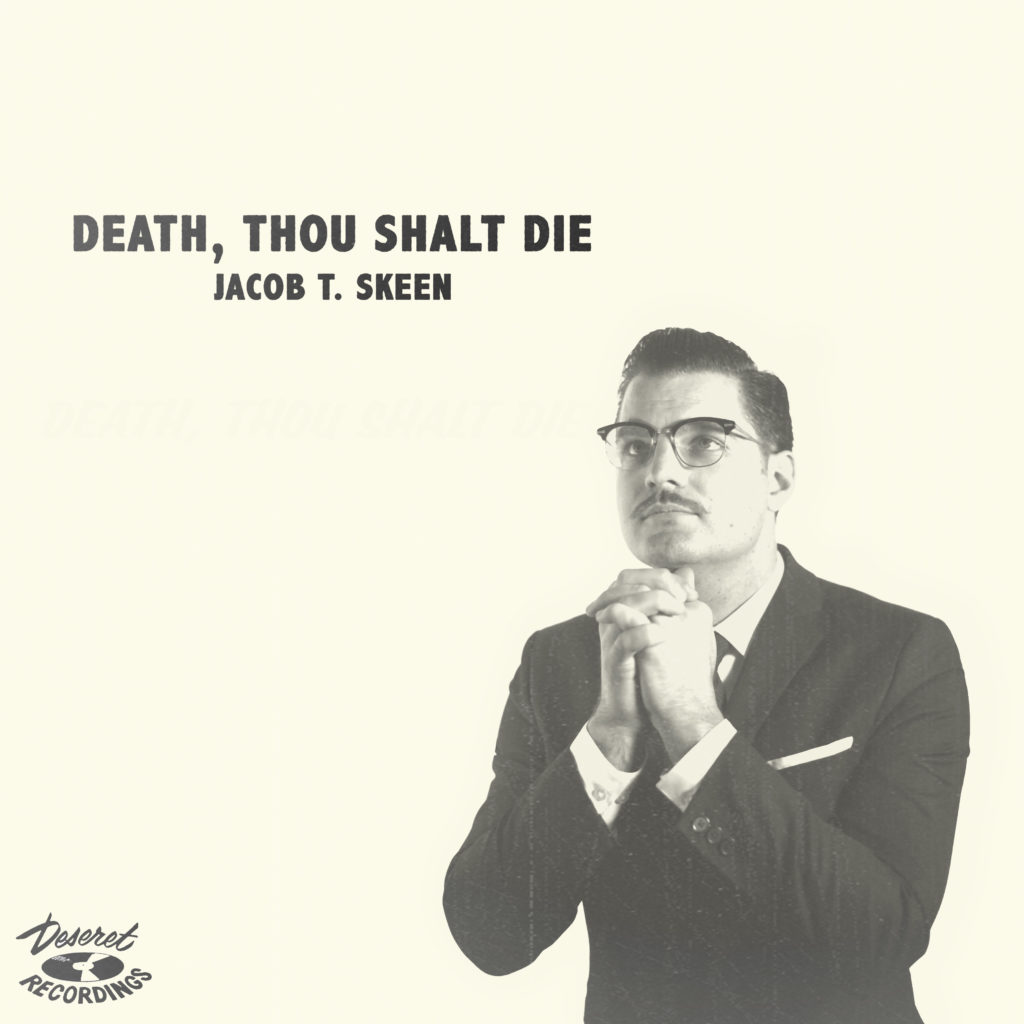 Jacob T Skeen
Death Thou Shall Die
Self-Released
Release: April 6, 2020
From beneath the murky smog enveloping the now empty streets of Salt Lake City comes the haunting sounds of Jacob T Skeen. As a one man band, Jacob T Skeen blends swampy blues induced garage rock with heaviness of metal into distorted doom-like concoction of psychedelia. Listening to his new record Death, Thou Shalt Die is akin to hearing music transmitted from the airwaves of the damned. It's an intoxicating sensation, as though one is hearing the long lost preaching of the lord of the underworld them-self.
Listeners of this record ought to be warned that it is not uncommon to feel a staggering malevolence, as though the cold hand of death has drifted over your heart and into your soul. The first track, "Elizabeth Felt Payne" captures this essence by luring the unwary listening into the depths of the demented. It's defined by the wailing razor sharp riffs and Skeen's booming vocals. This is distorted doom blues at its finest.
The second track, "When They Lay Me Down," follows along with the previous song's musical style. This song carries a sound that lures the eager listener into voodoo-like trance. This is due to Skeen's hypnotic vocals and freight train heavy beat. Not only that, but there is something delightfully primitive about this track that captures the raw energy of delightfully sinful garage rock. This is the track that was meant to invite the dead back from the grave.
The third track, "Working Ministry Blues, is by contrast slower in tempo and much heavier in tone. This is the kind of tune that ought to envelop the mind and cause it to drift away with certain madness. With "Working Ministry Blues," Skeen shows that he can capture the one's wayward mind under his signature rock n' roll spell. This is helped along with the introduction of an organ to give this track a being in a Sunday service-like feel.
"Mourn with those that Mourn" carries on with the same kind of heaviness as "Working Ministry Blues." Produced with a brain bashing beat, this song boasts definable dread. It's the perfect music for recently dead. This is music to feel the dread and empty totality of death with.
"Desolate Home" has some of the similarities of the former tracks. However, this song produces an infectious instrumental swagger. Vocally, Skeen sings as through he is drowning with the devils juice in his lungs. The effect is disturbing. So, naturally it's perfect for the demented bluesy garage rock that Skeen is known for.
Other tracks like "Storehouse of Souls" are upbeat and rock n' rolling. This is the music to stomp your feet and jump around to. Stylistically, it's in line with Bloodshot Bill's contemporary brand of rockabilly raucous.
The track that stands out on this album is "Ecclesiasticus 21:10." This song retains Skeen's demonic vocals. The difference though, is the very metal influenced instrumentals. Cue some Black Sabbath with some swampland-like sound and you've got "Ecclesiasticus 21:10."
Waste no time on this record. Be sure to pick up Death Thou, Shalt Die wherever available . This is an album of fine gothic scripture and sermon-esque reverence. This new record betrays a psychedelic sound unlike anything else currently reverberating in the city of salt. This kind of rock n' roll testament is exercised similarly by the likes of Reverend Beat-Man, Bloodshot Bill, and even Daddy Longlegs. Fans of these artists will find Death, Thou Shalt Die is the much needed deliverance molding apocalyptic notions with an appealingly wicked nature. Now, go forth and dig this tunes.
(Visited 150 times, 1 visits today)