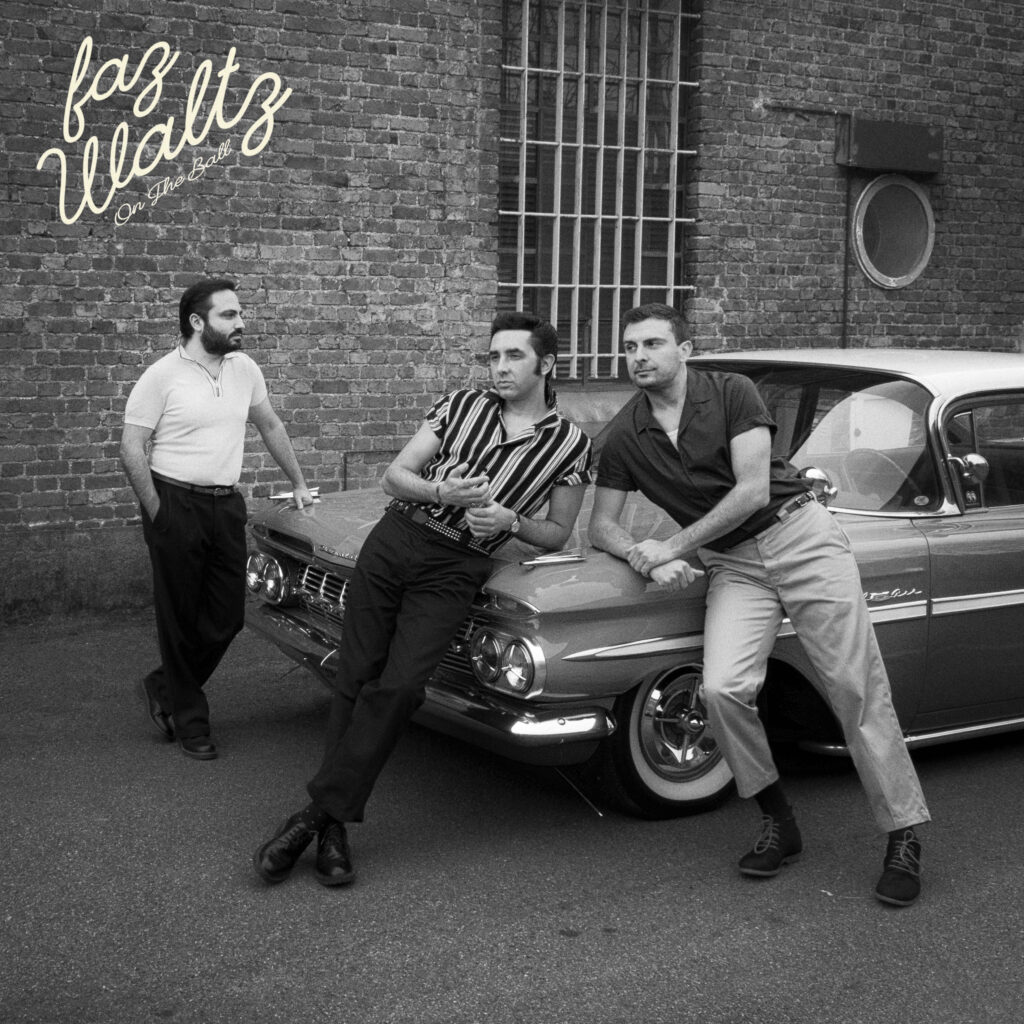 Faz Waltz
On The Ball
Spaghetty Town Records
Release: 04/18/2022
Faz Waltz's new record proves that rock n' roll is thriving. In contrast to their previous material Faz Waltz step out of the junk shop and into the hop. Their new album On The Ball is a work of homage that devotes it's energy to tunes harkening on the days of old. It's a record that brilliantly channels the spirits of the pioneers of rock n' roll. Particularly that of Little Richard, Chuck Berry, Elvis Presley, and Eddie Cochran — with some help from The Beatles with Tony Sheridan. The result is the experience of conjuring the closest thing to the soundtrack of American Graffiti for the ears of the 21st century.

On The Ball wastes no time is serenading it's listeners with the infectious rock n' roll. Starting off this record is "Hot Cold Fever." For this tune Faz Waltz channel the glam n' roll energy of the late Richard. It's fast, fun and with unbridled passion. "Hot Cold Fever" is a tune to be played loud. If applied correctly through the speakers, this sound will electrify it's listener to twist and shout.
In a similar vein is "Shame On You." This track captures the feeling of Cochran and dare I say a bit of Jerry Lee Lewis. Although a simple tune about a heart scorned, "Shame On You" has a definitive swagger. This song is a favorite from On The Ball. It boasts riffs that Berry invented, played loud enough ought to have it's listeners shaking, rattling and rolling. So dig this, it's the devils music and it's good.
Other tracks like this are "Fool For Your Love" and "Soon I'm gone." The former track, "Fool For Your Love" shows off definitive Berry characteristics. It's a track Invoking nods to "School Days" and of course "Johnny B. Goode." The latter "Soon I'm Gone" carries on with Richards' wild piano playing style. Both ought to be put on the jukebox to get any party moving.
"Hungry Man" blends the untamed nature of Cochran with the desperation of Presley's crooning. This tune has a strong build up, but remains in a mid tempo range. That said, this track shapes itself with a raw inflection. The outcome being a song inspiring an uncontrollable urge to start shaking with gyrations.
In true form, Faz Waltz deliver tracks blending T-Rex with a late Beatles-esque styles. These tracks are "Empty Hands" and "Shining Teeth." Both songs bring forth a groovy yet heavy sound. This is music that begs for invocations of feelings weighted by a certain longing. It's a method that Faz Waltz has perfected over the years and is reminiscent of "Sleepy Head" from their album Double Decker.
Much of On The Ball celebrates an unyielding feeling of youthful urgency. Not surprising then since that's what rock n' roll is. While On The Ball invites nostalgia for the sock hops, hot rods, strawberry milkshakes and poodle skirts, it's still a sound boasting relevancy. Even in this day and age this genre reveres the idea that there will always be rebels without a cause.  It's a philosophy which Faz Waltz are certainly devotees.  
This is an album that demands rock n' roll is here to stay and it is clear it will never die. It's a record that fits perfectly in Faz Waltz's storied catalogue. On The Ball blends sounds that invoke yearning for the vintage and refined. That said, this record should not be overlooked. Faz Waltz deliver the a good time. This album is contiguously fun. It's music made for cruising around with no particular place to go. Now, go pick this up, and get down and with it.
For more Faz Waltz check them out at their bandcamp and website.
(Visited 114 times, 1 visits today)