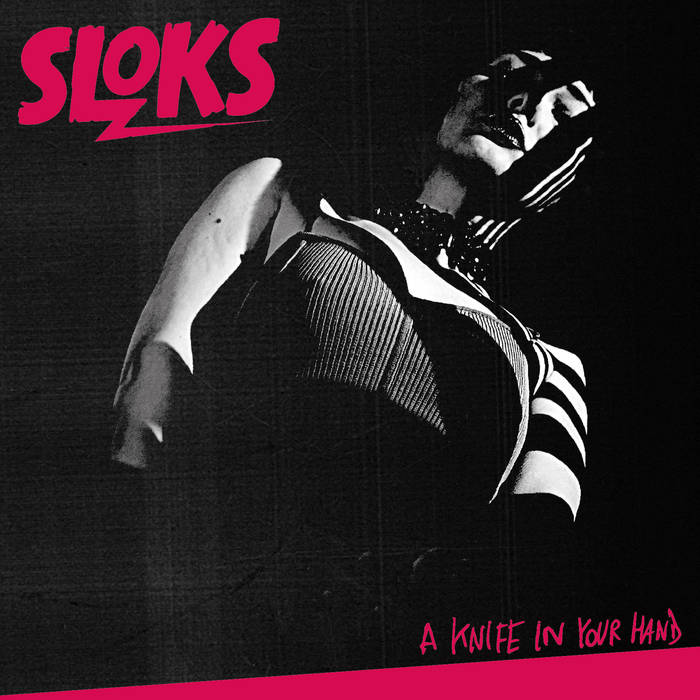 Wailing from the depths of the damned in Turin, Italy are The Sloks. They are Ivy Claudy, Tony Machete and Buddy Fuzz. In September 2021, they released their new album A Knife In Your Hand on an unsuspecting world. Within it's grooves are the deranged trash of garage punk from hell. Listening to this album is akin to being lured by sirens from the crypts of depravity. The result being succumbing to wretched madness of a spiraling mental decline. Not surprisingly, this record has been released via the infamous Voodoo Rhythm Records.
A Knife In Your Hand starts out with the track "Dillinger." The result of hearing this tune is like being dragged unto the depths of the unhinged. It's a track that blasts out with heavy distortion and combines a stomping beat to match. In comparison, the second song "No Make Up" boasts primitive garage punk at it's near finest.
A similar regard can be made for "Burn Baby Burn" and the title tack "A Knife In Your Hand." The former is a rabid tune. While the latter sounds as though the possessed child from the Exorcist is serenading the listener with a certain malevolence. Both a perfect for a band that toes the line for uncompromising music found amongst a rock n' roll massacre.
"Bad To The Bone" and "Last Grave" stand out in the album. They both celebrate an overwhelming noise backed by The Sloks garage punk method. This is due to slow build up around a chaotic distortion and harsh haunting vocals. The main distinction between the two is "Last Grave" prominent doom blues leanings.
"Crank It Up" also shares some unique qualities in A Knife In Your Hands. While other tracks take on a gradual build up approach, "Crank It Up" raises dramatically the tempo. This track betrays a style both fast, raw while offering a desperate notion of eagerly circling in for a kill. Like-minded songs are "Ruin It All" and "Exotic Store."
Overall, A Knife In Your Hand lives up to menacing potential of noise driven garage punk. This is not a record for the faint hearted. Rather, within it's grooves is music for demented and cursed. If that doesn't deter you, when playing this record don't hesitate have the volume dangerously high. Afterall, A Knife In Your Hand might as a well be a degenerate séance, and it demands to be heard. So, drop the needle at your risk.
(Visited 209 times, 1 visits today)