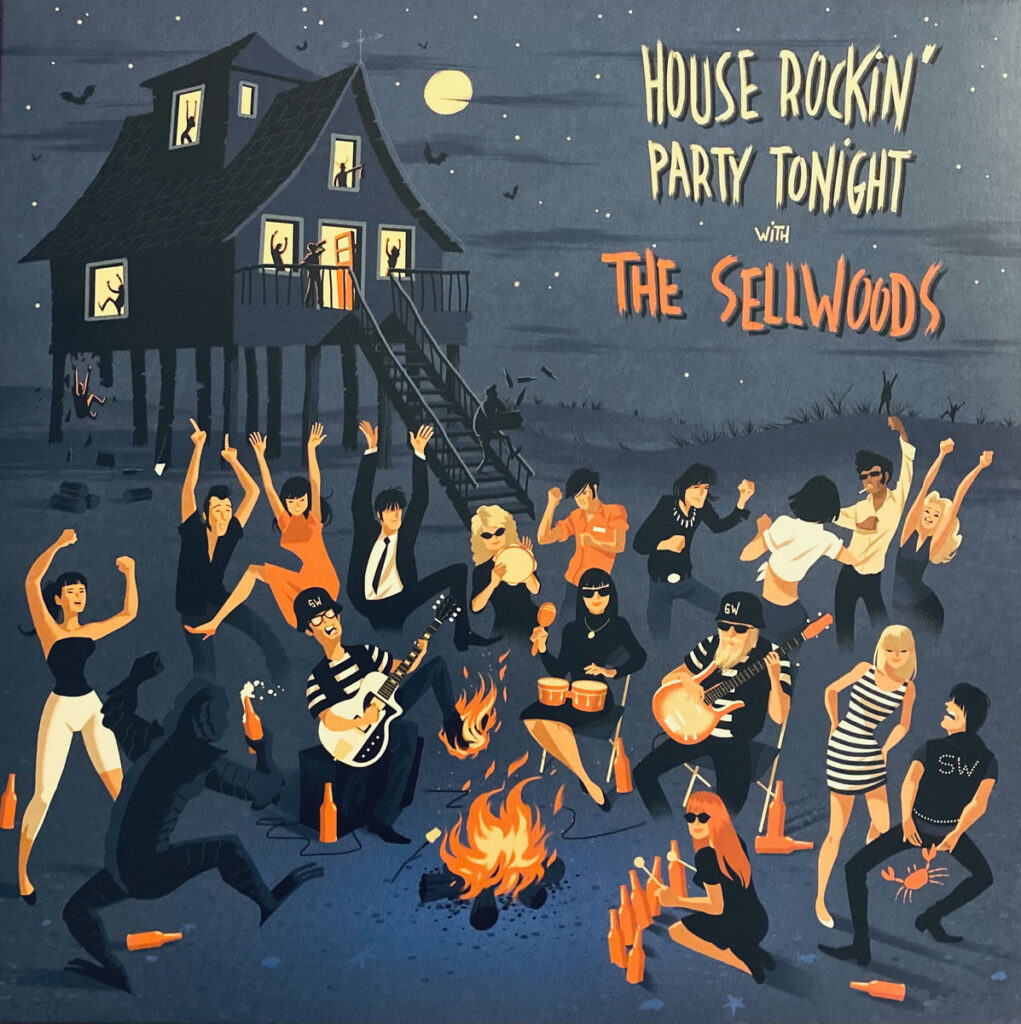 The Sellwoods
House Rockin' Party Tonight
Chaputa Records
Release: 04/29/2022
At last the long awaited LP from The Sellwoods is finally here. It is adequately called House Rockin' Party Tonight. Within it's grooves are the caveman stomping sounds reserved for everything delightfully demented about garage punk. Fans of The Incredible Staggers, The Sonics or Miracle Workers will find this record in tune with likeminded savage sounds. So, it's not surprising then that House Rockin' Party Tonight was released via the renowned Chaputa Records. This record is not for the faint hearted. Rather it's fuzz driven rock n' roll is for those seeking music akin to the Born Bad compilations.
House Rockin' Party Tonight kicks off strong with the pounding track "Shakedown." In pure cave person garage punk fashion this is a song delivering a blow like a blunt club. It has a strong beat, which is extenuated but the prominent use of the organ playing. It's simple and straight to the point. In a similar take is "Why." Both of these tracks exude the emphasis of playing on the primitive side of garage rock.
Things pick up with "Curse Of The Ramones." This is a track that edges more on the punk side of garage. Think along the lines of a snotty homage toward the three chord wonders, The Ramones. In contrast "Johnny Needs A Drink" has a Link Wray meeting A Rebel Without A Cause feel to it. It's the kind of rock n' roll that borrows off afore mentioned novelty idea by giving it a noticeable b-movie flair.
Much of the strength on House Rockin Party Tonight resides on the b-side. Starting this side off is "Demented Planet."This track was originally put out on the Demented Planet EP released on June 25, 2021. It's haunted debauched rock n' roll at it's best. This is a song that strikes all the right raunchy chords for untamed garage punk. It's a feeling brilliantly felt in "Volcano Girl" and the spooky "Down In The Alley." Both of which is also on the EP.
Another stand out song in this record is "One Eyed Cat." From start to finish it's solid, cruising for a bruising music. This is rock n' roll meant for the simplistic nature of hot rod kicks.It's a track following in line with the signature nature found in The Sellwoods defiant attitude. Be sure to waste little time by turning the dial red hot to play this one loud.
Among my favorite tracks on House Rockin' Party Tonight are "The Walk Of Shame" and the cover of "Something Else." "The Walk Of Shame" is an easy tune to follow. One might guess there may be some prudish societal stigma for leaving a house in the early hours after a passionate affair. The only lyrics are "the walk of shame means nothing." This comes across as an absolute dismissal against misgiven notions of puritanical shame. If you needed a tune for this kind of meander, then you now have this garage punk anthem for a leisurely, yet self-aware excursion after leaving a bed other than your own. Enjoy!
"Something Else" is tune that ages well. It's insolent and rebellious approach was arguably perfected by the late Sid Vicious. Now it's brilliantly done by The Sellwoods. They capture a definitive '66 garage rock feel by adding the spirit found with a Girls In The Garage comp.. No mistake here, this isn't a homage to Frank Sinatra, this is rock n' roll.
The Sellwoods have long chosen which path to follow at the devil's crossroads. It's the path of lifelong degenerate rock n' roll. Now with a host of releases under their belts, they bare House Rockin' Party Tonight for you to hear. This records boasts the sounds of germinating garage punk demanding to be heard. Top tracks are "Demented Planet," "The Walk Of Shame" and the cover of "Something Else." That said, this records in it's eternity ought to paid attention to. Now, pick up this album.   
For more of The Sellwoods check out their Bandcamp or Facebook!