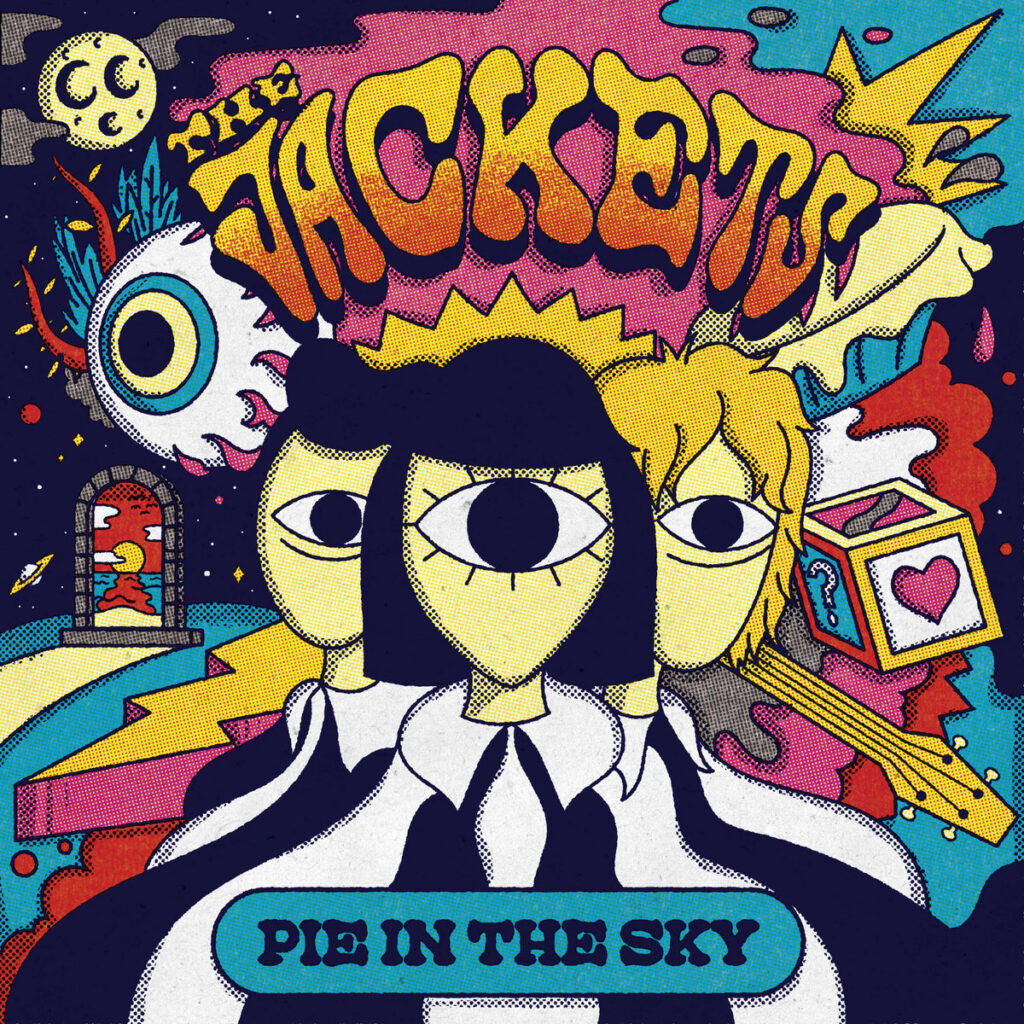 The Jackets
"Pie In The Sky"/ "Misery Of Man" 7"
Wild Noise Records
Street: 03/01/2023
Kicking off the year 2023 The Jackets have a released a monster of a single. The "Pie in the Sky"/ "Misery Of Man 7" is a testament as to why this group leads the pack when it comes to rock n' roll. This record perfectly builds off the successes of The Jackets previous two records and comes out via their new label Wild Noise Records. Those paying attention are aware The Jackets are one the most dynamic bands around. Their blistering garage punk is second to none. It's a mix of freakbeat with mod influenced garage punk tinged psychedelia. This approach is refreshing and not tamed by restrained mediocrity. Rather this is the music that seems to effortlessly breath of life rock n' roll music.
Since this single's arrival it has found a near permanent home on my turntable. It has been playing nearly nonstop with the volume level in the red—I'm sure much to the joy of my neighbors. The A side's "Pie In The Sky" boasts certain and captivating brilliance. Theme wise "Pie In The Sky" invokes a nod toward the wandering nature of the Damned's "Stranger of the Town.' That said there is a clear distinction with The Jackets fuzz heavy psychedelia as apposed to the former's goth infused punk.
Furthermore, the instrumental quality for "Pie In The Sky" shows of a certain maturity in style while not sacrificing The Jackets definitive edge. This tracks captures a certain playful and electrifying nature. Played loud enough and under the right influences it ought to make one move recklessly about. So, boost your receivers and properly experience "Pie In The Sky."
"Misery Of Man" makes for a perfect follow up to "Pie In The Sky." This song is wrapped in a fuzz driven blanket. Lyrically, this track warns of the different maddening stages of falling into love. To do this it celebrates a moody and haunting provocativeness. This beautifully coincides with a pounding backbeat propping up an enveloping psychedelic theme. Thus giving sound to the absorbing turbulence of this passion driven emotion.
If there was a record meant to show the importance of rock n' roll, this single is it. The Jackets have long been delivering solid and exciting material. This record continues their legacy by ferociously blending fuzzed out freakbeat with the defiance of proto-punk sensibilities. It's music that is vibrant, sincere and above all relevant. If this is a preamble to more material coming out soon, I am ready for it. This is the top shelf stuff and is needed. Now, waste no more time and pick this up!
For more about The Jackets and Wild Noise Records click here!