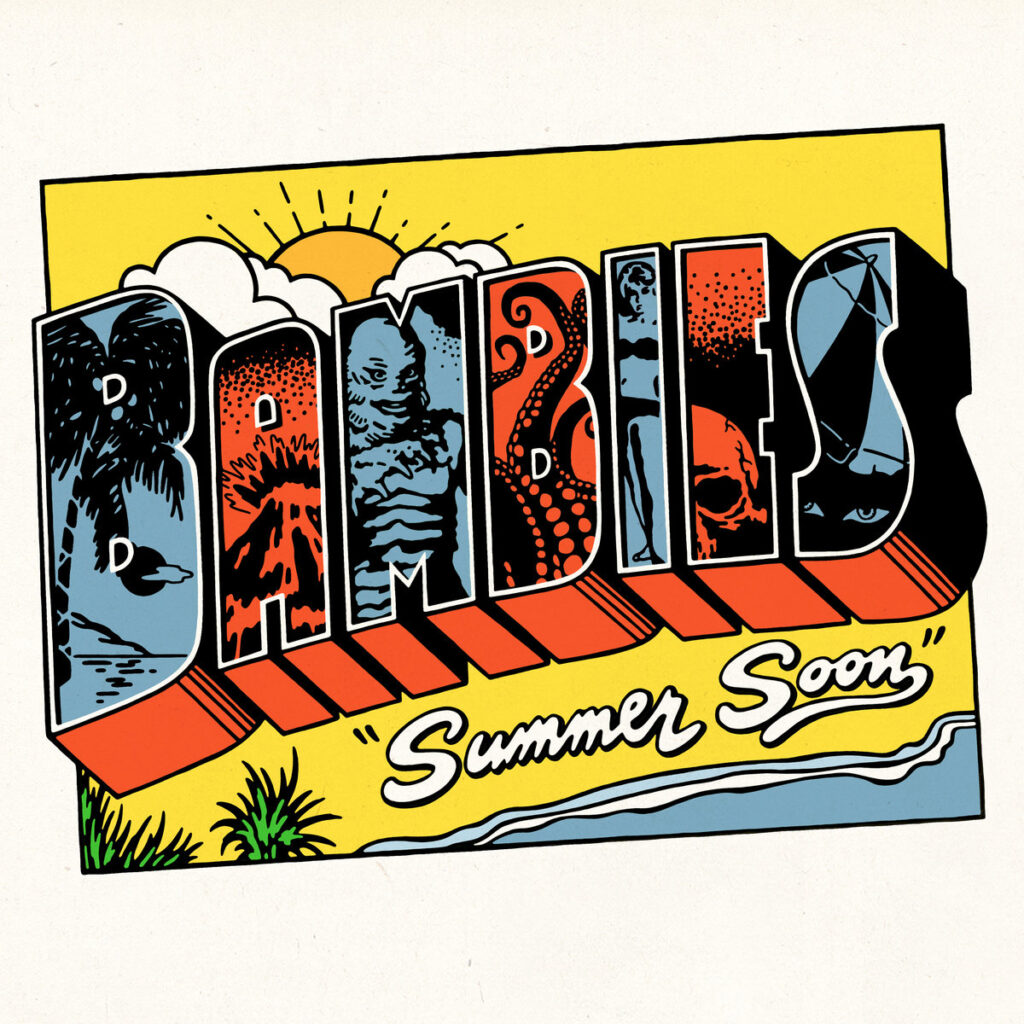 Bambies
Summer Soon
08/20/2021
Spaghetty Town Records
Bambies have released their new record Summer Soon. This album plays at the blistering speed of 45rpm. Featuring 12 solid tracks, this is a record that demands to be played loud. Which is perfect for this no holds bar punk rock n' roll band. This group is a based in Montreal, Canada and are made up of tri-national (Canada, France and Costa Rica) degenerate rebels-without a cause. If you are fan of The Briefs, The Spits or Les Lullies, then Summer Soon will be up your alley.
The first track "Dirty Taint" is a rowdy sonic blast of power pop infused punk at it's finest. It brilliantly sets the tone for this album. Think of the Nervous Eaters playing with their definitive rock n' roll swagger but at the break-neck speed of the Ramones. Next up title track "Summer Soon" follows suite in a similar vein. It is a perfect blend of snotty defiance and catchy sing along fun.
For me the magic on Summer Soon is with " Echo." This song is infectious and wild. Much like "Dirty Taint" it carries a Ramones-like quality to it, but with snot filled quality worthy of The Spits. "Echo" the kind of tune meant to bounce around like a speed-freaked idiot. So don't mess around when playing this one, make sure to boost the receiver. You might make friends with your neighbors or roommates—or not. That's the risk of playing volatile power pop infused with mutinous punk for the masses. Some get it, some don't.
The B-side of this record also boasts it's fair share of gems. Tracks like "Teen Engine" help root Summer Soon's angsty punk theme. "Teen Engine" has plenty of infectious energy that is easy to get behind. Listening to this should inspire one to fly off the walls as if on a high voltage wire.
Other tracks like "Human Sake" and "RnR With You" capture Bambies superb ability to mix the angst of 70's punk with garage rock rooted power pop. "Human Sake" is fun and rambunctious. It's the kind of tune to bash about to. Listen for pure undulated fun. On the other hand, "RNR With You" lives up to it's name. This track is fast and throws all caution to the wind. Like other track's it's got a signature power pop element that is infectious to the ears.
Overall, Summer Soon is an album worth dropping the needle on. Based off sound on this record alone catching Bambies live would be an unforgettable experience. This trio demonstrate an excellence in blending fast paced punk with power pop.
If you the reader needed an album to kick them into an overdriven frenzy, then Summer Soon is for you.  So, be sure to pick this up. The result of playing this should be pogoing about like an absolute madman. Anything less will require adjusting to volume to the appropriate levels flashing lights of translucent red.  Now dig this.
For more about Bambies visit their Bandcamp!
(Visited 41 times, 1 visits today)