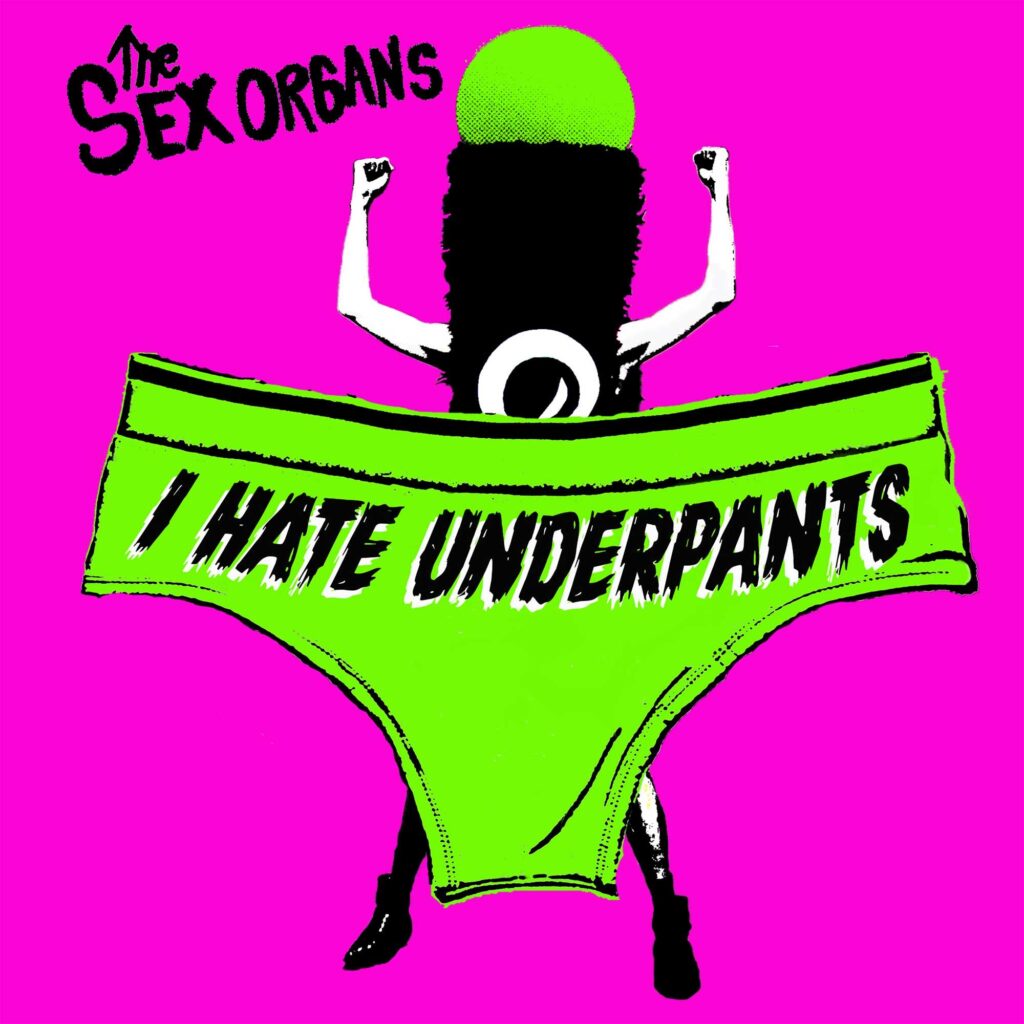 The Sex Organs
"I Hate Underpants"/"Where Is My Dildo" 7"
Orgastic Records
Street: 04/23/2021
Hurtling back toward the planet Earth are fuzzy primitive garage duo The Sex Organs. The third rock from the sun hasn't been the same since they released their phenomenally outrageous LP Intergalactic Sex Tourists through Voodoo Rhythm Records in 2017. It was a record that shook the fabric of decent society to it's core. Unfortunately, over the last fours years, the Earth has seemed to lull into an era of un-sexiness. This is largely thanks to a pandemic that has wrought devastation to it's four corners. Thankfully, The Sex Organs are back with their new 7" via their own label Orgtastic Records ,and they are here to stimulate the desperate lives of a post-covid world.
The A-side of this single does just that. This track is called "I Hate Underpants." It's a simple, fast and in your face. Possibly unabashed raw garage punk at it's finest. This tune laments everything wrong with underpants. Whether it be because they never fit or even when these undergarments crawl up your ass. Clearly The Sex Organs hate them, and you the reader should too.
The B-side of this record is "Where's My Dildo." This song boasts the definitive reverberating vocals of thanks to miss Vagenta Dentata (Jackie Torea). Plus, it also invokes a nod to a Bo Diddly tune— who is aptly referenced in this song —thanks to the rhythm and bluesy riffs. "Where's My Dildo" has a catchy chorus to sing along to. So reader, beware, soon you will have a song to help you find your lost your dildo — whether you have one, or not.
Fans of The Jackets or The Anomalys will find the Sex Organs next in line on their playlist. This particular record blends the simplicity of hardcore punk sensibilities with the sensationalized rhythm of primordial garage rock n' roll. This is music not to be played at the highest volume level possible. For within these grooves are enlightened sexcitment message of the intergalactic Sex Organs ,and it's not to be ignored. So drop the needle on this wax, and succumb to the urges to to get down, get dirty, hate your underwear and find your dido. Now pick it up.
For more about the Sex Organs, check out their bandcamp.