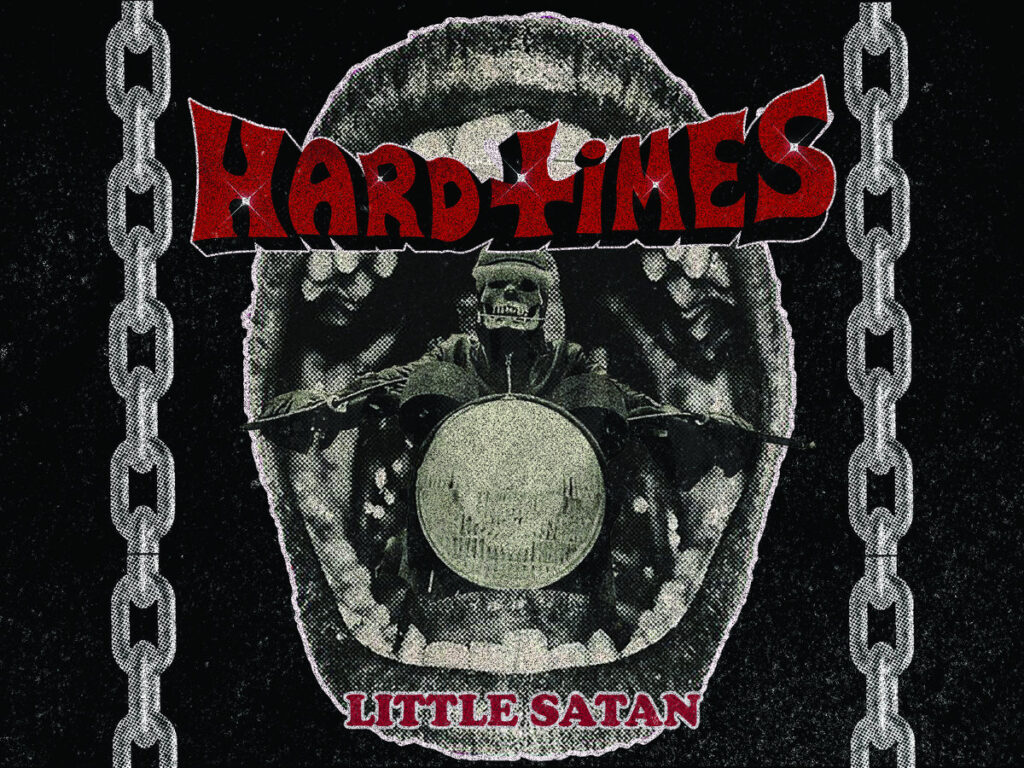 Hard Times
Little Satan
Spaghetty Town Records
Release: 05/06/2022
Hard Times Little Satan is a seemingly one-off diamond in the rough. This EP is a result of boredom and the need to create during the height of the Covid 19 pandemic. This record exudes everything brilliant about the glam-degenerate nature of sleaze infested proto-punk. It's not a surprise as it features members from Slick Bags, Desperate Fun and Suicide Generation. They are Sebastian Melmoth, Davide Chessa, Fabio Mongelli, Geoffrey and Paolo Piras. To top it off, Little Satan was recorded at the New River Music Studios in London, England by Patrice Picard, and was mastered by Jim Diamond.
This EP is not a record that benefits from low volume. Rather, to fully enjoy this record, the music should only be heard when's one's receiver is turned high enough that it's on the verge of exploding. This is an obvious thing to do upon listening to the title track "Little Satan." It's a song that immediately grabs ahold of its listener with a defiant proto-punk adrenaline injection. This is thanks to a fast beat and fuzzed out guitar riffs. It;s the kind of trash glam punk that invokes a nod toward of The Joneses' but with a style meriting the ferocity of Ex Cult.
In a similar fashion is "Oh Let It Go." This tune is more in line with snotty glam rock n' roll. It's the Hard Times answer for a mover and shaker Think of it along the lines of New York Dolls inspired but, with a rock n' roll revival aesthetic of the early 1970s. Complete with razer riffs and a strong beat this is a song demand to be danced to. Waste no time to getting rowdy, this is what this music was meant for.
"She Ain't Here No More" is more on the mellow side record. However, the music picks up with "Do Yo Feel Like Lovin," This one packs a considerable punch. It's fast, loud and raucous. "Do You Feel Like Lovin" ends this record on a high note. It might even invite one to sing along to the chorus. Of course this would be helped under the right substantive persuasions.
Little Satan is a record that demands to be heard. This is a creation from a super group of depraved rock n' rollers. Within it's grooves are songs of untamed desperation from a deeply uncertain time. It's music that blasts away notions of stagnation. This thanks to Hard Time's approach to riotus sleaze glam-punk. Before Little Satan ends up in obscurity, pick it up. If by listening to this the urge to kick something over isn't apparent, rinse and repeat. After all, this is the sounds that debauchery is made of. Play it loud.
For more about Hard Times get their record at Spaghetty Town Records or via their Bandcamp!


(Visited 71 times, 1 visits today)