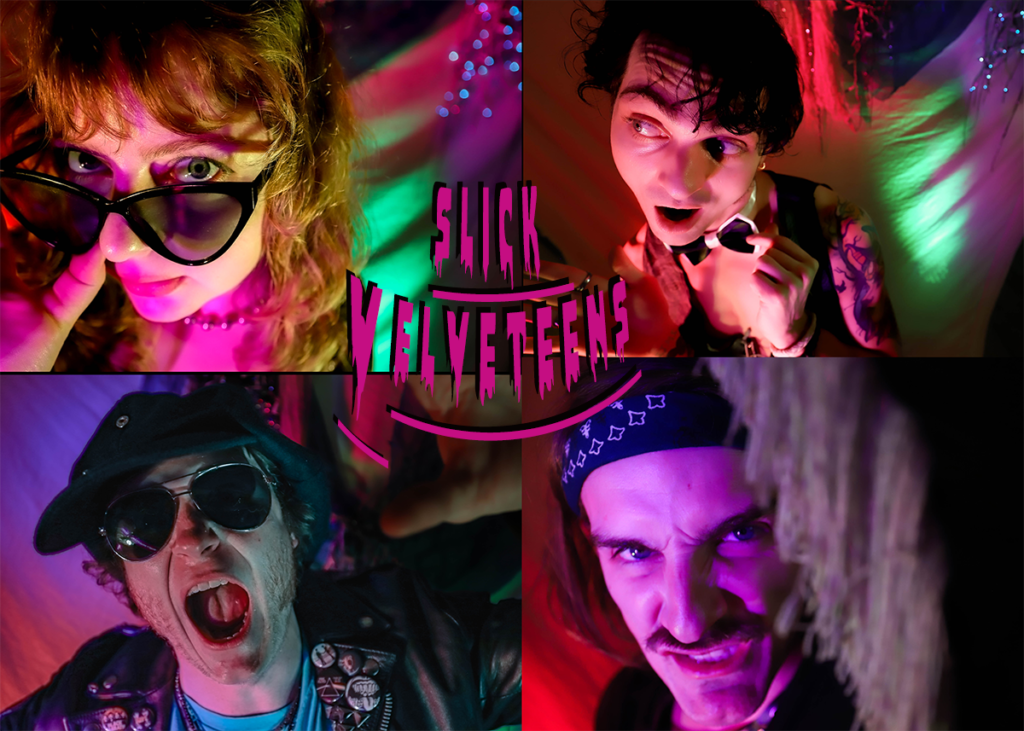 Since their inception in 2015, Slick Velveteens have been on the forefront of a glam revolution in Salt Lake City. They are Devi Strill, Kenzie Waldo, Danny Cringe and Georgetown "Grimm." Their influences range from the artists including New York Dolls, The Cramps and Betty Davis. Stylistically they blend bluesy funk and junk shop sleaze rock n' roll with the visual damnation of 1970's exploitation films. The result is a unique sound that will melt the faces of non-believers and inspire the next generation of trash city glam rockers.
Slick Velveteens have been active regulars in the Salt Lake City music circuit. Their performances are tight and they provide an experience not to be missed. They have performed with local groups such The Poppees, Shecock & the Rock Princess, Rebel Rebel and many others. For touring acts, they are ever ready to represent Salt Lake's glam community. Among touring groups Slick Velveteens have even opened for are Bad Sex, Giuda and the metal queen and former Runaway Lita Ford.
Other than playing shows, the last few years have seen Slick Velveteens busy with putting out material. They have released a self-titled album in 2017, along with two singles, Double Trouble Singles (2019) and Sweet Victim (2020). In addition, they have made several music videos to accompany their releases. A feat that inspired submitting the video for "Ditch" in the Desertscape International Film Festival in 2021.
The future looks bright for Slick Velveteens. On Saturday, May 21, 2022 they will be opening up for Thelma & The Sleaze. They also plan to release a new album titled Shock Values later 2022. To learn more I tracked them down to learn about how they formed, what it was like opening up for Lita Ford, participating in the Desertscape International Film Festival and their future plans……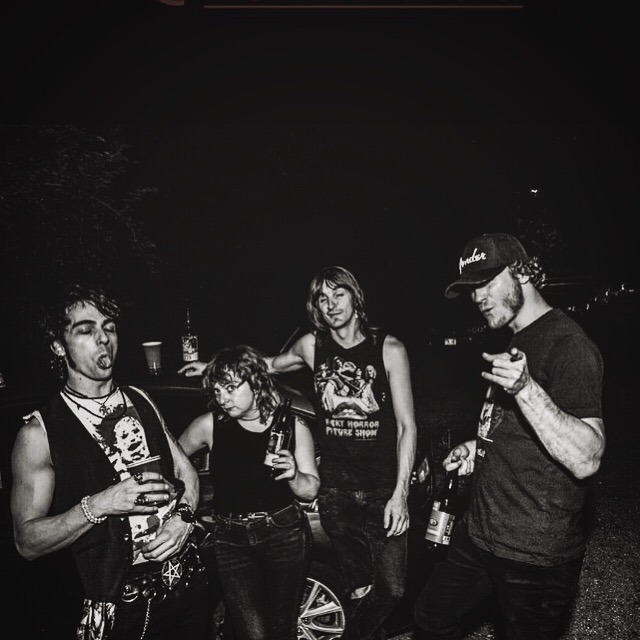 NixBeat: Slick Velveteens initially formed in 2015 when Devi Strill and Kenzie Waldo started to collaborate. Then in 2016, the band fully organized with Danny Cringe (drums) and Brandon Richter (bass), with Georgetown "Grimm" later replacing Richter in 2019 as bassist. What prompted starting Slick Velveteens and how has it grown over the last few years?
Waldo: Slick Velveteens' start is kind of a long story. Devi and I are siblings, so we've been playing music together in various forms since we were kids. But Slick Velveteens started at a time where Devi had mysteriously lost his ability to walk (we found out later that it was caused by a form of arthritis). So, I would go over to the house he was living in at the time to keep him company while he was recovering. We were sharing songs that we were writing separately to get another pair of ears on them. It was a few months of that until we decided that we would officially start a band together. I believe the exact words out of Devi's mouth at that time were, "We should start a band and call it Slick Velveteens." I'm pretty sure I just said, "okay." Brandon was living in the basement of the same house and agreed to be the bassist. Around the same time I asked Dan to drum for only one show—even though we had ulterior motives to keep him as our full time drummer. The rest, as they say, is history.
NixBeat: Georgetown "Grimm" joined Slick Velveteens in 2019. How did he get involved?
Grimm: I've known these cats since they were kittens yah mean? Seriously though, me and Brandon performed together in Mister Richter and he suggested me as a replacement and it just worked out. I was getting into engineering as they started writing so it turned into a collaborative effort.
Waldo: Georgetown has been around from the beginning. He recorded our first demo and has been our main engineer since!
NixBeat: Self-described as a glam band, what influences do you draw from for your sound and style?
All of Slicks: It's safe to say that we are a product of anything we find cool. We're pretty nerdy like that. Sound-wise, our influences span from New York Dolls (+the entirety of the late '70s New York music scene) to The Runaways (+ the entirety of the '70s Los Angeles music scene) to Richie Valens to funk-legend Betty Davis; Alice Cooper to Sonic Youth to The Cramps to The Shangri-La's etc. This list never really ends. Stylistically, we pull a lot of inspiration from exploitation films such as Faster Pussycat Kill! Kill! to musicals like Chicago. All of these influences overlap so much that our product actually sounds original.
NixBeat: In 2016, Slick Velveteens opened for Lita Ford. How did you get involved with that show and what was it like to open for Lita Ford?
Waldo: I actually just wrote a satirical essay about this story that I'll be publishing on our website sometime this summer. It's titled: "MIRAGES: THE HOW-TO GUIDE TO GET YOUR D.I.Y. ROCK 'N' ROLL BAND TO OPEN FOR ONE OF YOUR CHILDHOOD HEROES." Long story short, I berated a former booker of a local venue so many times asking to play shows (always met with "NO") that once this booker started working at The Depot and needed a local rock n' roll band to open for Lita Ford, we were finally a first choice (or, at least, I hope). I think the booker asked us to play this show a week beforehand, so there was a lot of last minute chaos that ensued to make this happen.
All of Slicks: After we got to watch soundcheck and meet her in person it was worth it. The Runaways is a band we obsess over, it was the biggest show we've played yet, it is definitely one of the highlights of our lives.
NixBeat: Slick Velveteens have also opened up for Italian glam rockers Giuda and Portland, Oregon's power pop quartet Bad Sex. How was it playing with these groups?
All of Slicks: It was awesome! Not only are we big fans of both bands, but we were recommended to play these shows by some of the coolest SLC locals (hint hint).
NixBeat: What have been some of your favorite groups to perform with in Salt Lake City?
Waldo: We're big fans and friends with The Poppees and love anytime we get to play a show with them. We've had some great gigs with other locals such as Shecock & the Rock Princess, Brain Bagz and Rebel Rebel. A recent show we played that has become one of my favorites was with Daytime Lover and Msking.
NixBeat: Slick Velveteens utilizes impressive filmography for their music videos. Common themes include horror, slasher films and 1970s exploitation. What do you look for when creating a music video and how important are music videos in telling the stories of your music?
Strill: I think we're a lot more than just music. Combining stylistic visuals with our sounds adds a complexion to who we are overall. I'm a big fan of cinema, so it feels like a natural extension adding these kinds of mediums to our music.
NixBeat: In 2020, Slick Velveteens released the video for "Blood Clot" on August 14, 2020. In it you draw from iconic horror films and occult themes. What inspired this song and video?
Strill: "Blood Clots are not fun. So, let's watch horror movies instead." It was a music video that highlighted not only our individual interests but also helped in the formation of how Slick Velveteens' aesthetic was about to take shape.
NixBeat: In 2021, you released your music video for the song "Ditch." Stylistically it plays out like watching a 1970's slasher, exploitation film in line with Switchblade Sisters (1975). What are you drawing from for the creation of this song and video?
Strill: Switchblade Sisters, actually, was the main inspiration for this video. I wrote it with that movie in mind along with Faster Pussycat Kill! Kill!, The Town that Dreaded Sundown, and Girlboss: Guerrilla.
Waldo: The song is more about touring. But a ditch seemed like a nice visual setting for a music video.
NixBeat: The "Ditch" music video was also accepted in the Desertscape International Film Festival in 2021. How did you get involved with Desertscape and what was it like to participate in the final selections of this festival?
Strill: Our collaborators Blade Sabovick and Maddie Shaw at Silent Jester Media made the submission. It was great to hear the response from a live audience while watching alongside them. Awesome to see our music video on the big screen and big thanks to the Electric Theater for showcasing it!
NixBeat: On May 22, 2022 Slick Velveteens will open for Thelma & The Sleaze at Kilby Court in Salt Lake City. How did you get on this show and what can readers look forward to for your performance?
Waldo: We met Mo from Daytime Lover during a recent show we played together. She recently became the new local booker for Kilby Court and asked if we wanted to play it. I'm a huge Thelma & the Sleaze fan so getting the chance to open for them is going to be epic! We'll get the party going with our high-energy performance to give Thelma & the Sleaze a warm SLC welcome.
NixBeat: Slick Velveteen's last release was the Sweet Victim single in 2020. Do you have plans for another single or album?
Slicks: We've been working on a full-length album for the last two years. It's become a longer process than originally thought because we keep pulling new inspiration into it, making it evolve into the exact artistic expression we want it to be. The album is called "SHOCK VALUES" and it will be released by the end of the year.
NixBeat: Where would you like to see Slick Velveteens go from here?
All of Slicks: It would be amazing to have Slick Velveteens become as big as The Beatles (yeah, I said it!) but, overall, I love where Slick Velveteens is right now. It's become such a collaborative project that is bigger than any of us separately. All ideas are welcome and nothing is too weird to suggest. In a group that is very much grounded in the D.I.Y. mentality, the sky's the limit for what we can accomplish together. I hope we can continue making shit we think is really cool. But, of course, we would love to focus on Slick Velveteens full-time— touring, making videos and albums until our hearts are content. The coolest thing of all would be to have a cult following. One day!
For more about Slick Velveteens check out their website!
(Visited 91 times, 1 visits today)