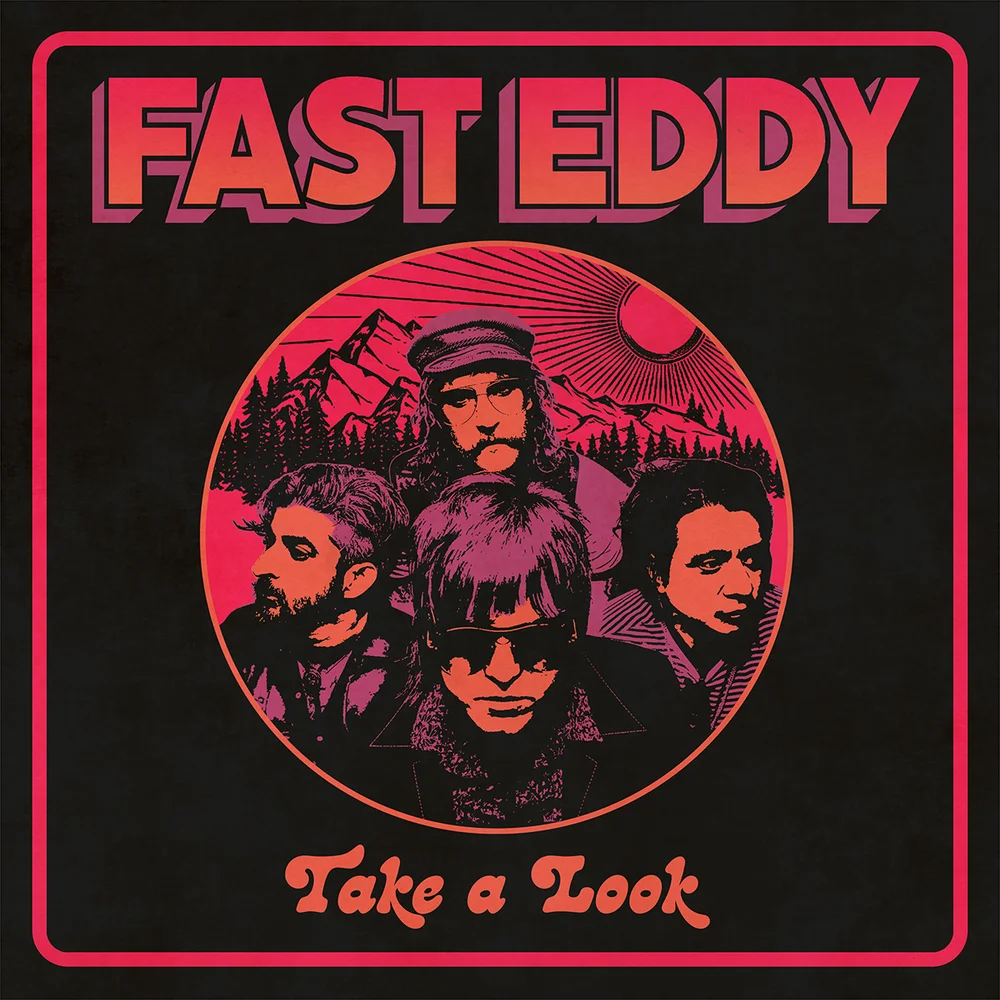 At long last Denver's notorious rockers Fast Eddy have released their sophomore LP, Take A Look. Within it's grooves are soul studded sounds of power pop driven rock n' roll. It's their debut LP on Spaghetty Town Records and was produced by Tuk Smith (Biters). Admittingly, there are familiar themes of the music for rebels without a cause. However, Take A Look represents an evolution into a refreshed approach to this ageless genre. Not surprising then that this is perfect for the longings of the hopeless leather jacketed romantic of today's desperate age.
This record starts off strong with the signature track "Take A Look." This song is groovy to the ears. It kind of reminds of something that The Booze could boast, but with a style distinctly enmeshed in punk twisting with roguish power pop notions. This song sets the tone for the record by playing a sound that fills the room with illuminating brilliance. If one needed something to kick off the day with, "Take A Look" is that track.
Those who got their hands on the Toofer One 7" in 2018, will already be familiar with "Milwaukee." It's the kind of tune to eat your heart out with. This song tells the tale of the trappings of a lifestyle of the iconically decadent ,and will resonate with those succumbing to the affections of rock n' roll. So open a cold one and sing along to the easy to follow chorus. For those still plugging away at three chords with long lost hope, its for you.
Another track following in this vein is "Frankie Died." Although upbeat, It's a tragic song about the demise of Frankie. The subject of this song has unfortunately died, and while a tragedy, it doesn't seem to be a surprise. Those hoisting the banner of rock n' roll have all known a "Frankie." Be sure to listen carefully.
On the other "Help Me" displays Fast Eddy's superb swagger. It's a kind of soulful song that gives of the feel goods. Listen to this one to conclude the evening on a high note.
Those more comfortable with Fast Eddy's punk roots need not fear. Tracks like "Hurricane Alley" and "Lost" perfectly capture their signature approach to unabashed punk n' roll. They are loud and fast. Play these with impunity.
The magic on Take A Look are with tracks "Game of Love" and "Sunflower Bank." These two tunes demonstrate Fast Eddy's ability to blend elements of glam, rock n' roll and punk into something more than typical projections of head numbing sensations. They are songs that project definitive passion by taking playful rock n' roll and stretching it toward operatic sensibilities. As such, they should not suffer the limitations of low volume. Rather, they must be given the chance to fill the halls of any dive bar or punk flat.
Fast Eddy know how to deliver stunning rock n' roll tunes. Their previous material is a testament to is fact. While this record plays on the recognizable and it also shows remarkable range. To miss out on Take A Look would be poor choice to say the least. It's well worth the listen and should be played on repeat until the needle wears out. After all, its music like this that remind us that rock n' roll is still breathing, and it seems this is in part due to Fast Eddy. Now, pick this up.
For more Fast Eddy visit their website or at Spaghetty Town Records!