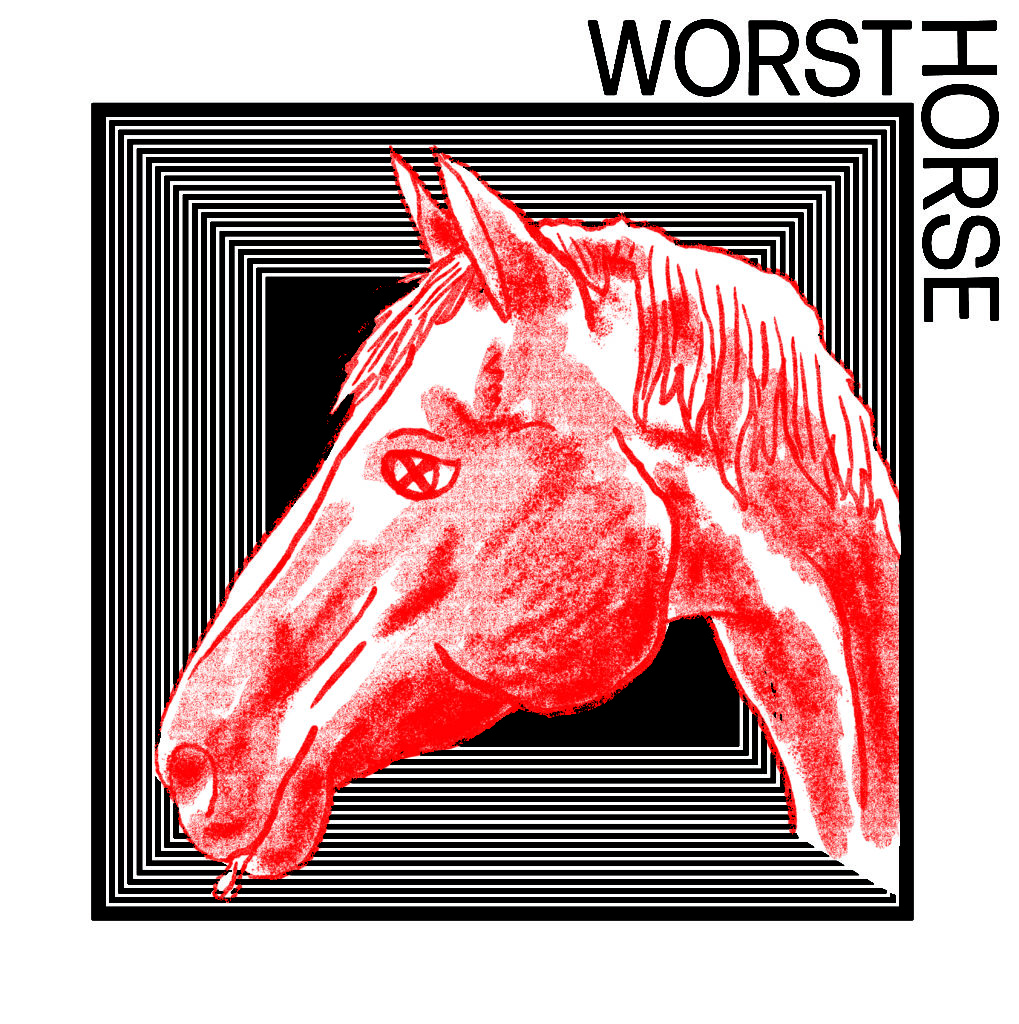 Worst Horse
Self-Titled
Self-Released
Released : 4/05/2020
Worst Horse, aka Margot Apricot, is an artist who boasts many talents. These are found, but not limited through their unique screen printed designs, paintings and of course through their music. Formerly Apricot was known for performing in the multi-genre'd Lube and the noise-punk outfit Brain Bagz. Now, under the name Worst Horse, they have released the first album from their solo work. Consequently this is also the album name. The overwhelming feeling that Worst Horse betrays is a demand of being unforgivingly introspective. It blends notions of haunted isolation with a kind simplicity, but unique 1980's electronic vibrancy.
Lyrically, Worst Horse sings about themes of hurt with a kind poetic disassociation. Musically, it's twisting styles of electro-art-punk with obsessive droning and a definitive beat. This is of course a courtesy of the hollowness of a drum machine. It is particularly evident when listening to tracks like "Cleansing Breath" or "Past Needles."
Other notable tracks such as "Left A Mark" carry with the sermonizing style of beat poetry. In this song, Worst Horse speaks about sobering reflections of a life of struggle and pain.Combined with the electronic noise reminiscent of a Blade Runner like film score, the song has an overwhelming, yet alien feel. It's short and sweet, but quite sobering.
In Worst Horse, there are also notable covers from artists such as Rabbit's "Calcifer" and The Bee Gee's "How Deep Is Your love." In their own way Worst Horse pays a ultimate homage to these artists. They uniquely perform these songs with a certain delight. With "Calcifer," the original captures the essence of playful indie-folk with impunity. Worst Horse's version is heavy with a sorrowful orchestral flair.
The original version of the Bee Gee's "How Deep Is Your Love" is among the iconic songs of the 1970's disco era. It's a song that is moderately upbeat, cheesy and meant for the dance floor of a Saturday night boogie. When Worst Horse performs this song, the trajectory is different, but with some striking similarities.
For this cover, Worst Horse evokes a style that is different. It celebrates the primitive sensibilities with the numbing sensations of disco twisting into a new wave-like flair. Although this cover has a kind of melancholy about it, Apricot still knocks this number out. That being said, if listeners want to rave on with "How Deep Is Your Love" the assistance of substances for this gothic-esque cover might allow for some slow grooving fun.
The album as a whole is a trip. It's got the psychedelic notions that with under the right conditions will evoke a out of mind experience. Songs like "Let The Pain In" carry on the introspective nature that defines this work. It's mellow, but subtly provoking. This is the same with the track "House of Bees." Though in contrast, this song has more of the dissociated feel that is also found in Worst Horse.
When listening to Worst Horst the result is like being taken on quite the dynamic trip. This should not be a surprise given the caliber of the Worst Horse's artistic ability. As seen with their body of work, it blazes past any limitations.
However, with this release, one may tread with some caution. This album may take a special if not sobering frame of mind to digest. One should be ready to let go of their inhabitations and be ready for songs that beg one to look deep into their soul. If that soul is troubled then this album may hit home in the most profound ways.