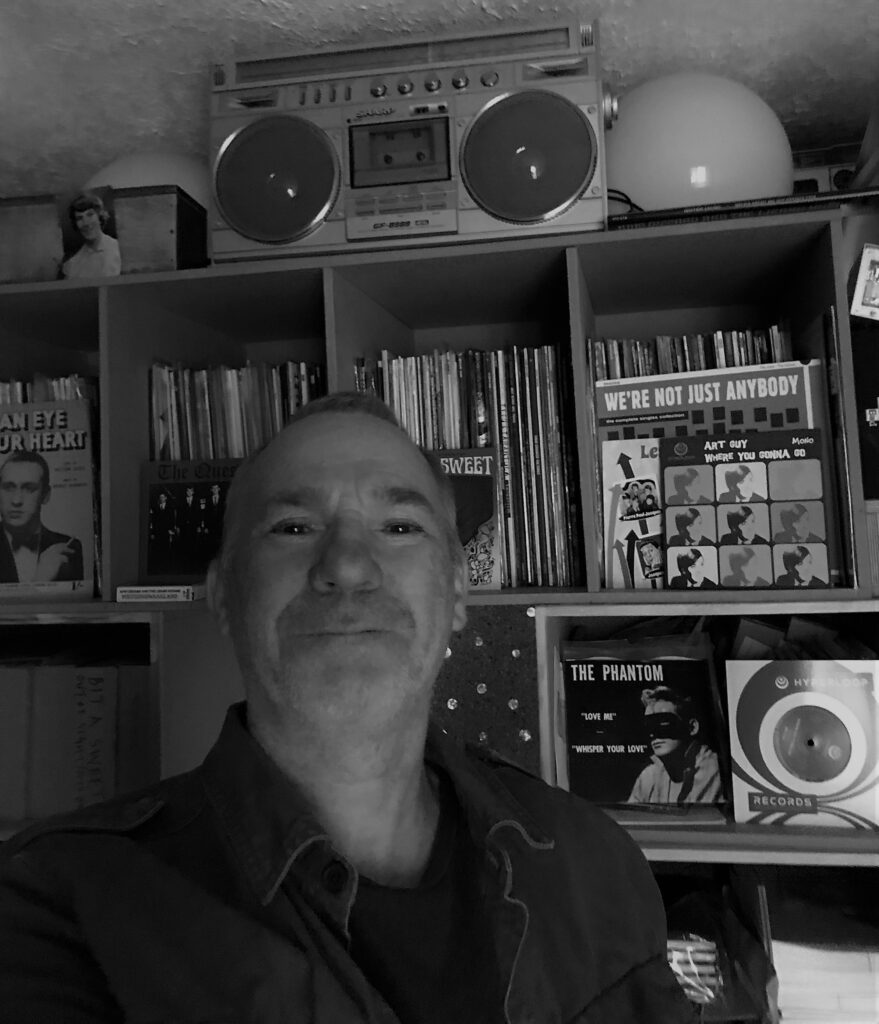 As a record collector, Glyn Bowen has always had an ear for interesting ,and hard to get. He comes from comes from a rich musical history. This is largely thanks to the influences of his parents, broadcasts from pirate radio stations, and religiously attending gigs and music festivals. In recent years, Bowen took the next step to share his passion with the world, by founding Hyperloop Records.
Hyperloop Records has steadily become renowned for their reissues. It's a label that places an emphasis on reissues of garage rock, surf and psych records. Through Hyperloop Records, these gems are given new life and made affordable. Pressed as 7" records, they are perfect for the DJ and collector alike. Among the growing catalogue of records includes songs by Ruperts People, The Quests and Art Guy.
The newest release to join this impressive catalogue is Sunshine Theatre's "Mountain." It was reissued on October 23,2020. To learn more about Hyperloop Records, I caught up with Bowen and chatted about his passion for record collecting, founding his label and what records we can expect to be given new life thanks to his label.
NixBeat: As record collector since the age of 11, you say that have not lost the love for the 7" record. What attracts you to this format?
Bowen: Probably as this was the first format I owned as a youngster. Whilst there were LP's. In the house at the time they were likely easier to handle!
NixBeat: In a previous conversation we discussed that your parents influenced your music taste. They introduced you to the Beatles through the "For Sale" LP via Dansette Record player. What other groups did they introduce you to?
Bowen: My father was into most types of Jazz. He really liked Benny Goodman ,Count Basie, Duke Ellington. My mother liked female singers like Ella Fitzgerald, Dionne Warwick, Eartha Kitt, Sarah Vaughn, and Billie Halliday.
NixBeat: You have attained quite the collection of the Dansette record players. Why do have such the soft spot for them?
Bowen: Ahh yes the collection of old record players. I let a collection go some years ago, but I keep finding them. It is pure nostalgia really. I still like to play 60's 45's on them just to get an idea of how they would have sounded at the time. I am slowly getting better at repairing them now. I love the smell too!
NixBeat: Growing up, you were exposed to the Pirate Radio Radio Luxembourg. How did this experience shape your musical upbringing?
Bowen: My father was in the forces and I was shipped off to boarding school. Luckily I had a small pocket transistor radio with a single earpiece and you could just about pick up Luxembourg. I remember Rob Jones and Tony Prince DJ's.
NixBeat: What do you find has changed about accessing music since the days of listening to Radio Luxembourg?
Bowen: Accessing music today is so easy compared to then. You can pretty much immerse yourself in every music style from all over the world in a couple of clicks. I think YouTube is one of the best inventions of the modern world.
NixBeat: You've mentioned you've spent time going to gigs and festivals. What has been your favorite gig to date?
Bowen: As regards gigs and festivals. I used to go and see lots of rock bands in my teenage years—UFO Scorpions, Gillan, Girlschool Hawkwind and Thin Lizzy. Then into bands like U2, Big Country, Alarm, and Big Audio Dynamite. I missed out on lots of punk bands but did manage to see Joe Strummer and the Latino Rebel War. I have to say that King Gizzard and the Lizard Wizard on a boat called The Thekla in Bristol harbour was memorable. His was just before they were getting big so to see them in a small venue was great.
NixBeat: Hyperloop Records was formed in to coincide with the release of King Gizzard and The Lizard Wizard's Polygondwanaland. How did this partnership come to be and what inspired the creation of Hyperloop Records?
Bowen: I was buying lots of King Gizzard albums from their Flightless Label in Australia and one night I thought I would check out if they had any new releases coming out. I found out they had a new LP but they were giving it away free to anyone who wanted to release it. I had recently seen an advert for a chap who had a lathe cutting machine 345.RPM in the UK. I got in touch with him and got 50 copies "Cut". I got a printer to make me a small run of sleeves, had some posters/photos made .I had always wanted to write sleeve notes but my desktop publishing skill are terrible ,so I wrote all the lyrics and credits by hand. All my releases so far still owe a huge debt to the kindness of the Aussie boys by giving away this album to the masses . I was also buying Carlo Vivary King Gizzard Posters, who gave me permission to use one of his images for the centre label. For his assistance I commissioned him to do the cover for The Bit A Sweet 45.
NixBeat: Where did the name Hyperloop come from?
Bowen: The name Hyperloop came about when Phil Macy from the Lathe cutting service asked me what my label was called, it had not given much thought up until then. I was watching CNN and at that moment a film was being made about a new transport system called Hyperloop, I thought that sounded good so I borrowed it from Elon Musk!
NixBeat: Since Hyperloop reissues obscure releases of 1960's music on a 7" format, what kind of clientele does Hyperloop Records attract?
Bowen: I think most of my customers seem to be DJ's from all across the globe, then record collectors who like me just can't afford the original versions and would like the chance to spin them at home.
NixBeat: Since 2016 Hyperloop Records has released several 45s since 2017. These include Ruperts People, The Quests and Art Guy. What criteria do you look for when choosing a record to reissue?
Bowen: My golden rule about choosing the songs is a simple one. I really have to love it, it has to be love and first listen, sometimes it is love within the first few notes. I then explore the availability and then access databases to try and find the rights owners etc.
NixBeat: What was the process like to get Rupert's People "Dream On My Mind" released?
Bowen: I was lucky enough to find the rights holders to Rupert's People "Dream on My Mind", a UK company called Angel Air. The chap who ran it was really helpful and full of great advice. A few signatures on a licensing agreement and a payment I was away.
NixBeat: Have you encountered any complications with reissuing records?
Bowen: I was pretty naive when it came to licensing before the Rupert's People 45 and did run into some problems with my previous release The Paragons/Snapshots split 45. I did register the release with MCPS/PRS but should have made a bigger attempt to contact the owners of the "master" recordings. I did however make it clear on my sales adverts for the owners to contact me. I made my peace with Danny Huntley from the Paragons .He was kind enough to sign a few copies for me. I had to write a very apologetic letter to the Sony Corporation regarding The Snapshots .I have to say it was the best lesson I have learnt and serves as great reminder to do things more thoroughly in the future.
NixBeat: The Art Guy "Where You Gonna Go" reissue has a certain condition of agreement with Art Guy to not have "Teenage Millionaire" on the b-side. What prompted this decision?
Bowen: As regards the Art Guy "Where You Gonna Go" and the flipside "Teenage Millionaire." I don't think Art Guy ever liked the song and was not taken with his drumming on that track. It was also co penned by Dorinda Morgan ( Original Beach Boys Producer) which would have caused difficulties with licensing perhaps.
NixBeat: To date Hyperloop Records has released six records. What has been your most popular release so far and why do you think that is?
Bowen: "Where You Gonna Go" has been my most popular release by way of sales within the first few weeks, having said that The Quests "Shadows in the Night" is doing really well. I have not many copies left of either. I have unfinished business with The Quests, they have a song called "That's My Dream" which was originally planned as a 45 but due to the Vietnam War and college commitments it never happened. I aim to put that right very soon.
NixBeat: What future records can readers expect to come from Hyperloop Records?
Bowen: Also in the pipeline is another love affair which I have been having for some time. The band were called Sunshine Theatre from Wales UK. The song is called "Mountain." I owe a debt to Oscar Richt aka Oscarowski for putting some outstanding songs on You Tube, without him I would not have ever heard this. I come from a Welsh background so I am pleased to be able to release this one. Also in the pipeline is another garage fuzz song, Backgrounds "Day Breaks At Dawn." I am also having a conversation with Ted Munda from The Enfields regarding a few of his songs. I have also got another iron in the fire but I am keeping that one close to my chest for now.
For more about Hyperloop Records, check out their Discogs page and Facebook Page!